Digital marketing campaigns for travel, hospitality, and tourism businesses are no longer an option. It's the standard. In the last reporting year, 65 percent of worldwide sales in travel and tourism were made on the internet, according to Statista. The agency expects the market to take an even greater leap to 72 percent online in just a few years. It sounds huge, and it is, but bear in mind this figure doesn't account for the sales that begin online and conclude with a phone call or visit to a local travel agency. If you want your business to thrive, you need to meet your target audience where they are and where they're looking for you: online.
As a travel marketing strategist, I specialize in digital marketing for travel, hospitality, and tourism businesses, I've been helping companies adapt to the changing marketing landscape for decades. I welcome the opportunity to help your company rise to its full potential too.
Travel Companies That Benefit From Working with a Travel Marketing Strategist
Given the nature of the travel industry today, most businesses will benefit from working with a digital marketing consultant. However, if you work in one of the following niches, you stand to gain the most ground by bringing in a specialist.
Tourism
Did you know that one in three tourists don't have a specific destination in mind when they decide to start looking into a personal trip? The insights presented by Google highlights the importance of getting your destination in front of prospective customers early. When you build your tourism marketing strategy around this fundamental truth, you not only reach them in time but also connect with the 67 percent of travelers who are more likely to book with a travel brand simply because the company provided relevant information about the destinations that interest them. 
Hospitality
When would-be travelers have their "I-want-to-get-away moments," as Google describes them, they're not sitting at their desktop PCs with oversized monitors and endless time. Instead, nearly two-thirds are squeezing in their destination-related searches on their mobile devices. In fact, the search engine giant says people spend months researching their travel plans, often running hundreds of searches in the process. As part of your hospitality company's digital marketing plan, you must have a responsive website that displays flawlessly for these types of engagements and ensure your content can be consumed in quick bites. It's also worth noting that 82 percent of leisure travelers don't have accommodations picked out when they begin planning their trip, per Google data, so there's plenty of opportunities to make sure your brand is the one they choose.
Airlines
Just as most people don't have their accommodations selected at the start of their research, a whopping 78 percent do not have their airline chosen either. However, with a solid digital marketing strategy, airlines can reach people as they make their decisions and deliver messaging that ensures travelers take their flights.
Car Rental
The final component of most trip planning is selecting a rental car. You may find that travelers visit your site repeatedly as they examine airports, hotels, and destinations to see what's available and how offers stack up. Therefore, you'll need to ensure your car rental agency's digital marketing strategy includes great content and has a plan in place to retarget the prospective customers who have already engaged with your business but have not yet secured a reservation.
Strategizing Digital Marketing for the Tourism Industry Effectively
Owners of tourism and hospitality businesses must put themselves in the mindset of today's tech-savvy travelers to get ahead. But, again, marketing in this industry is a process. Consumers reach out to your business repeatedly and often on their mobile devices. So, no matter which branch you're in, you'll need a strategy that boosts your online engagement and encourages repeat contacts, helps ensure your brand is memorable, and keeps you top of mind. It's also worth noting that 85 percent of leisure travelers wait to decide what activities they'll partake in until after they arrive at their destination, per Google research. So not only do you want to be the one they connect with in the weeks and months before their trip, but you'll also want to be the one who helps them get their bearings upon arrival.
Tourism & Hospitality Digital Marketing Strategies
Creating repeat engagements and nurturing relationships is one of my greatest passions. To achieve this and grow businesses, I draw on a variety of digital marketing strategies that a traditional marketing agency might use. However, because I'm an independent business and digital marketing consultant, I apply my own proprietary techniques to improve success rates even more. The following are some elements found in my digital marketing strategies for the tourism and hospitality industries.
Digital Marketing for Travel, Hospitality, and Tourism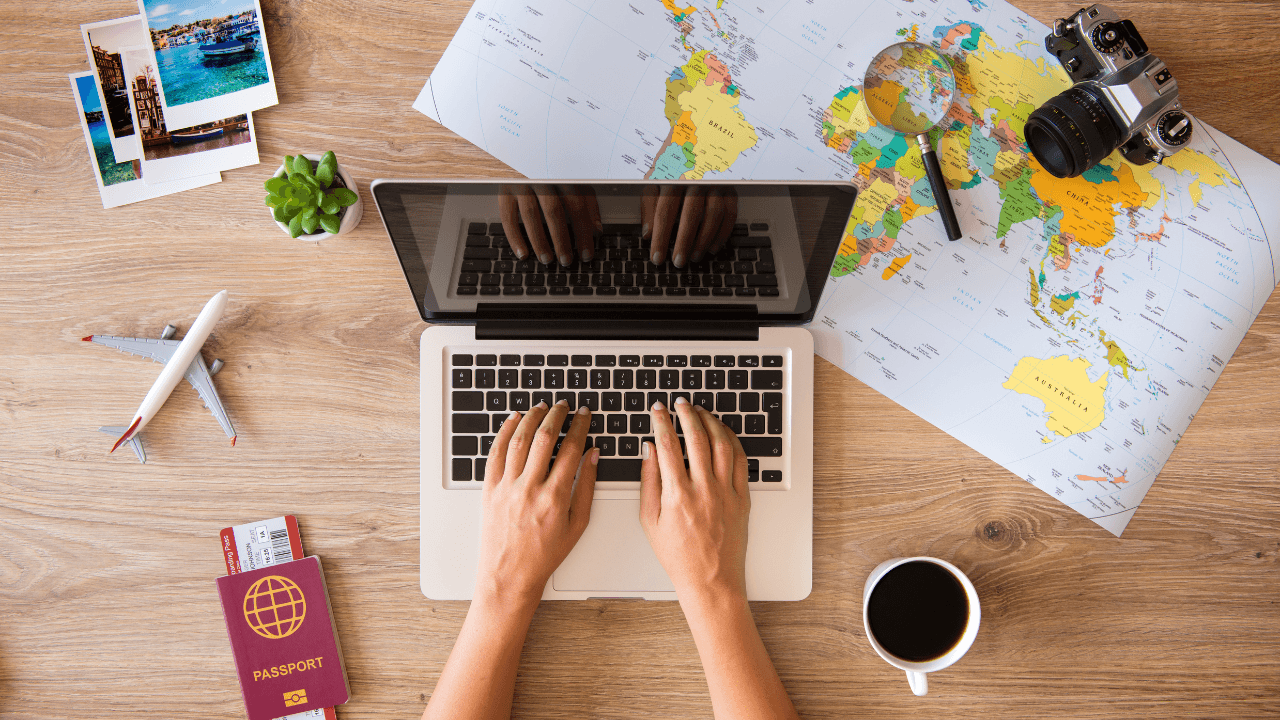 Search Engine Optimization (SEO)
Email Marketing
Online Advertising and Pay Per Click (PPC)
Social Media Marketing (Instagram, YouTube, Facebook, Twitter, etc.)
Content Marketing (Keyword-orientated Blogs, Vlogs, Travel Guides, etc.)
Online Reputation Management
Conversion Optimization
Four Digital Marketing Tactics That Hospitality and Tourism Companies Should Follow
When you're ready to take your digital marketing strategy to the next level, you'll also want to layer in the following four components.
1. Influencer Marketing
It's easy to think that influencer marketing is all about getting the latest "it" celeb to post a pic of themselves basking in the sun at a beachside resort to Instagram or Twitter. Indeed, that approach still works. However, modern influencer marketing for the travel industry is managed at a macro scale and can be just as effective and more affordable. Consider tapping in local celebs, YouTubers, travel bloggers, and the like.
2. Chatbot Marketing
Given the number of sites people visit when planning travel and how quickly they hop from site to site, businesses must focus on making a convenient user experience for visitors on their digital platforms. A chatbot can answer basic questions for travelers or help them find the information they're looking for on your site quickly. Chatbots can also act as tireless salespeople that serve up irresistible offers and gather contact information for further nurturing.
3. Marketing Automation
One of the easiest ways to nurture relationships with travelers is to offer access to an exclusive discount club. Trends show that travelers may not be ready to book during their initial research, but many will gladly hand over an email address in exchange for a booking discount when they are ready or some free travel guides to read at their leisure later. You cannot manage this manually as you scale, so it's important to automate as much as possible as you begin deploying your digital marketing strategy.
4. Social Selling
Sometimes eager business owners jump into social media with the idea to use it as advertising space. It doesn't work that way. Instead, focus more on social selling, or the process of engaging in an organic and friendly way with people who could benefit from your offerings.
Reasons to Hire a Hospitality and Tourism Marketing Strategist
Each hospitality and tourism company I work with has different goals. Some dream of becoming a global brand. Others want to become large enough to sell their businesses for a tidy sum so they can use the cash to do some traveling of their own. Whatever your goals may be, they'll shape your successful digital marketing strategy. As a digital marketing specialist and business consultant, I can help you:
Improve your social media presence and rankings on search engines through specialized hospitality and tourism digital marketing techniques.
Effectively manage your hospitality and tourism digital marketing brand.
Improve your travel company's digital marketing ROI.
Get measurable travel digital marketing results.
Identify your high-value target customers in the hospitality and tourism industry.
Leverage one-stop digital marketing consulting for businesses in the travel industry.
Disadvantages of Hiring a Travel Marketing Agency
If you've been exploring marketing agencies that cater to the travel industry, you may notice that we offer similar-sounding services. However, working with a consultant is a much different experience that delivers better results. Here's what the agencies aren't telling you.
You'll need specialized resources to stand out in the travel industry. Most agencies are generalists and may not know industry-specific resources exist, let alone know how to maximize their value.
You'll want a marketing team that's comprised of people with different skillsets. For example, a person who can write a killer travel blog may not have analytics skills or know SEO. Most agencies will offer all these services even though they're really only skilled in one area.
Your digital marketing strategies should be guided by someone who knows the business and its customers well—someone who is personally invested in the growth of your company. Unfortunately, agencies operate externally, so it's generally impossible for them to know your business as an insider would, and they may not make decisions that are in line with your philosophies or values.
Get a Tailored Process for Your Digital Travel Digital Marketing Strategy
As mentioned earlier, I tailor my approach to each business and its goals. However, I follow a proven process with specific steps that assure success at every stage.
Discovery/Consult
Your first step will be a complimentary consultation. This is an opportunity for you to get to know me and my philosophies a bit better. I'll also ask you a variety of questions, so I can assess where your business stands and give you feedback.
Competitor Analysis
When you're ready to move forward, I'll take a look at what your competitors are doing. This will help ensure we capitalize on opportunities they're missing and don't devote finite resources to areas a competitor already has locked down, so you get more ROI right away.
Demographics and Personas
Let's say you run a hotel in Anaheim. Chances are, you have the potential to attract families headed to Disneyland, sports fans coming in for an Angels game, business professionals traveling for conferences, and more. Although all these people may stay at your hotel, their wants and concerns will be unique, and your digital marketing strategy for each type of person will be different. For this reason, I'll also research demographics and create personas in the early stages of your planning. Then, they'll get used as we frame everything out and create content that speaks to them later.
Digital Marketing Roadmap
Next, I'll create a roadmap that outlines all the activities involved in your digital marketing strategy. Areas that will be addressed include:
Talent Sourcing
As mentioned earlier, having a diverse skill set is crucial to the success of your travel company's digital marketing. While an agency would likely keep all work under their roof regardless of which areas they excel in, I prefer to make sure your company has the best person for the task at hand and that each duty is managed cost-effectively.
If you already have in-house talent with the time, skills, and resources to perform specific marketing tasks, I'll typically be in favor of leaving the role in-house. Social media management is a great example of a job you should probably keep in-house, as an employee will have a pulse on company happenings. However, some tasks require a variety of skills, and it may make more sense or be more cost-effective to outsource them. Pay-per-click management and video production often fit into this bracket.
Implementation
Your digital marketing strategy will be deployed one component at a time. This ensures all initiatives are working at their best and starts creating revenue that you can put back into your marketing to amplify results as we go.
Results, Monitoring, and Building
I'll keep an eye on the performance of your digital marketing and finetune processes over time. This ensures you're always getting the best possible results and maximizing your ROI.
Schedule a Complimentary Consultation for Your Travel Business
Although I've helped multinational and Fortune 100 companies scale their growth through digital marketing, I prefer to work with small and midsized travel businesses that are as eager to produce results as I am. If that sounds like you, please contact me for a complimentary consultation.