Whether you're assembling your digital marketing team for the first time, expanding into new areas, or are at a crossroads and need to replace the person responsible for your email marketing, you're faced with two choices: to bring someone in-house or to outsource to an email marketing team.
When it's done right, email marketing delivers as much as $44 for each $1 spent, but the average is much less. That's because not every business sending out emails has it down to a science, and others are downright sending spam. In other words, your profitability and business growth hinge on making the right personnel choice.
But what is the right choice? Unlike other aspects of digital marketing that should really be handled by an in-house team that knows the brand and lives its mission, or others that may yield better ROI and results if outsourced, how you address email marketing is more about finding the right fit for your company.
As a digital marketing expert with a background in business, this is one of the many areas I address with companies that hire me as a consultant. I never start out with a recommendation. Instead, I get to know the business and its team through a comprehensive assessment. I find out what resources are already on board, search for any gaps, and then make a final determination. I'm in a unique position because I've worked with hundreds of companies over the years, so I've seen first-hand what works and what doesn't. Below, I'll give you a behind-the-scenes look at what I personally explore during my assessments. This will allow you to apply a similar strategy as you set the stage for success within your own company.
Get to Know an Email Marketer's Role Before You Decide
Although it may seem like an email marketer's job is primarily focused on content marketing and creating compelling emails, it's a very tech-heavy role these days. In order to get the right message to the right person at the right time, your email marketing professional will need to have a data-oriented mindset, have a wide skill set, and be constantly testing new ideas to find ways to improve the results.
Consider the Resources Necessary to Fulfill the Role
Skills
An Understanding of Your Brand
An Understanding of Your Subscribers
Ability to Segment Lists and Tailor Content
Ability to Manage Lists Effectively
Familiarity with A/B Testing and Analytics
Familiarity with Regulatory Guidelines and Best Practices
Comfort with AI and Automation
Familiarity with Optimization for Email Clients and Mobile
Knowledge of the Sales Funnel
Copywriting (unless your copywriter handles the copy)
Familiarity with Coding and Rendering (even if you're using a drag-and-drop email builder)
Tools
Email Service Provider or ESP (ActiveCampaign, Campaign Monitor, Mailchimp, Constant Contact, Pardot, HubSpot, etc.)
Render Testing (Litmus, Email on Acid, EmailReach, etc.)
Proofreading and Editing (Grammarly, WhiteSmoke, etc.)
Analytics (Google, your CRM, etc.)
Collaboration (Google Docs, Wrike, Asana, etc.)
Images (Canva, Pexels, Flickr, Shutterstock, etc.)
Time
Email marketing efforts and campaign management can be time-intensive. Most email marketers spend two hours each on strategy and planning, mobile optimization, transmission, reporting, and data, with another 2-8 hours on graphic design and content in any given email campaign. That means just to be "average," you should be spending 12 hours on each campaign. Some of the outliers, perhaps those still coding their emails from scratch and those crafting mega campaigns, are spending more than eight hours on each component. Again, this is for each campaign being run, and chances are your company will schedule several each month on your chosen platform, so it's essential to ensure your email marketing specialist has ample time to carry out all the necessary tasks.
Identify What Successful Email Marketing Looks Like to Your Organization
Each email marketing campaign will be different. In one campaign, maybe your goal will simply be to reengage contacts, while other times, you may want them to update their information or make a purchase. As the email marketing strategy is being refined, you may also place more focus on metrics like, how your lists are working, who is actually receiving the emails, and other technical aspects.
KPIs
Deliverability Rate
Inbox Placement Rate (IPR)
Open Rate
Click-Through Rate
Click-to-Open Rate
Unsubscribe Rate
Hard and Soft Bounce Rates
Spam Reports
Social Shares
Forward Rate
Conversion Rate
ROI
And More
Making the Final Decision: Should You Outsource Email Marketing or Keep it In-House?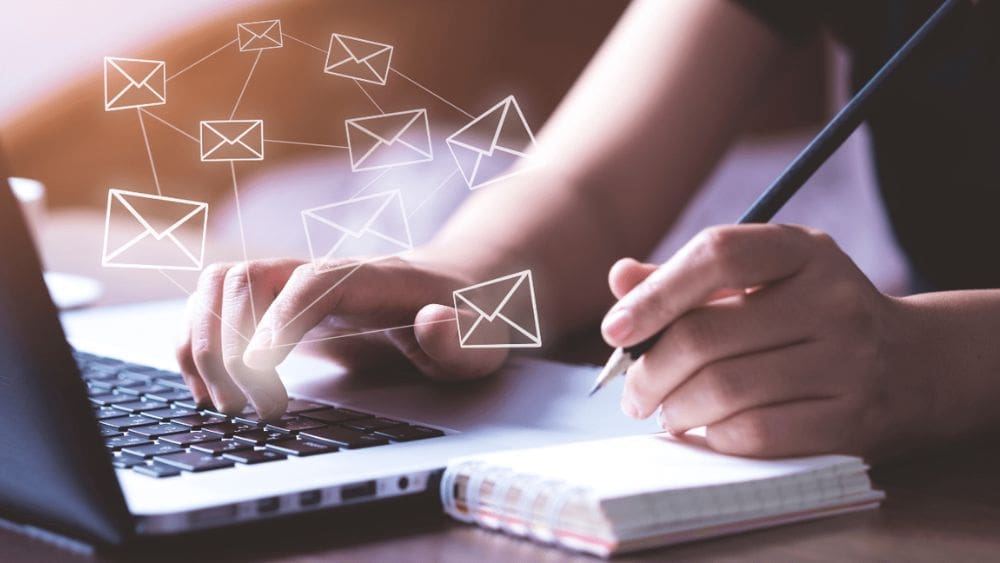 As you can see, there are many ways to measure the success of your campaigns and even more things that contribute to their success. If you have someone on your team who understands all these components, or you can find someone and they have the bandwidth to dedicate to email marketing, you can keep your email marketing in-house. However, if you're struggling to find someone with this expertise or you're not getting strong, measurable results, it may be time to look at outsourcing.
Get the Results You Want from All Your Digital Marketing Efforts
There was a time when anyone could fire off an email and get some benefit from it, but modern email marketing requires business acumen, strategy, and data, as well as a deep understanding of the brand and its audience. If you aren't getting the results you need from your email marketing campaigns or any other aspect of your digital marketing, I can help. Over the years, I've helped countless organizations, from Fortune 500 Companies to mid-size businesses, grow and develop the footprint they deserve. Let me know what your challenges are, and we'll talk through them in a consultation.