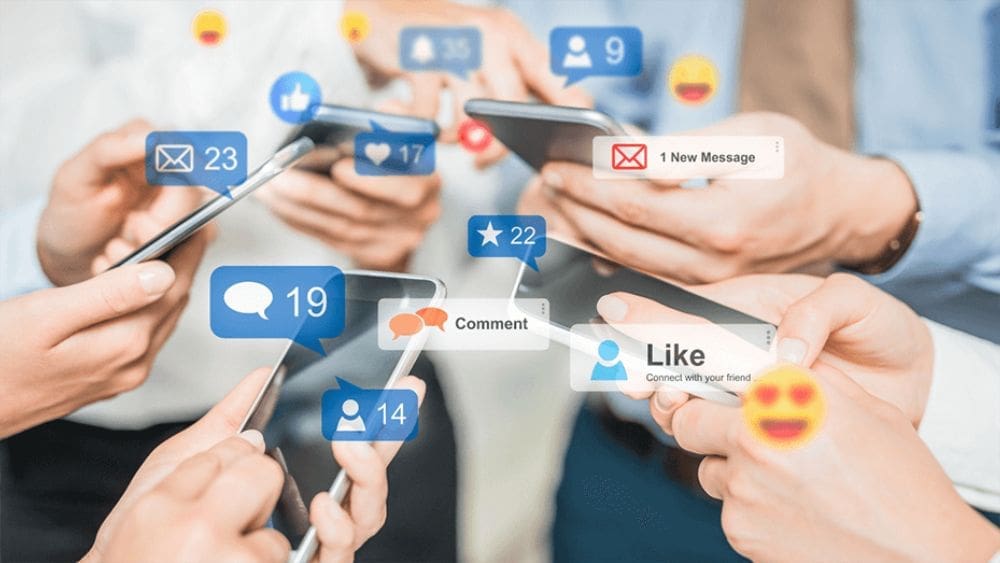 Trying to boost your social media engagement or kicking off a new social media marketing strategy and want to be sure you get ROI? Cultivating an enthusiastic audience and interaction isn't necessarily difficult, but following a proven recipe can help ensure you get there and shorten the learning curve.
What is Social Media Engagement?
Social media engagement is a catch-all term that refers to any type of interaction a person has with a brand on a network like Facebook, LinkedIn, or Twitter. Each platform is a little different in terms of what it measures and what matters.
Main Types of Social Engagement
Across most social platforms, you'll see measurements for:
You may also be able to track and see information related to:
Click-throughs

Mentions

Use of branded hashtags

Followers/ audience growth
And, on video-related platforms such as YouTube, you'll also be able to see how many times your content was watched and how much of each video people watch before moving on.
Why is Social Media Engagement Important?
Nearly two-thirds of business executives believe that brands without a strong social media presence won't succeed in the long run, according to Forbes research. Nine in ten say that those that don't invest will be left behind.
Despite the agreement of importance, there seems to be a bit of a disconnect. Businesses often try to measure their social media success in terms of new leads or sales. While you can get leads and sales through social media marketing, it's more about building your brand and relationships.
Why Invest in Engagement?
First and foremost, good social media engagement means you're investing your time and marketing budget wisely. You can use your engagement metrics to identify what's working and what your audience likes, so you can create more content like it.
The more often customers engage with your brand, the more loyal they become too. Plus, the algorithms that social networks use to determine who to share your post with often hinge on engagement. The more engaging a post is, the more people the network will show it to. If your brand consistently gets strong engagement, your posts will show up in even more feeds.
You're essentially getting word-of-mouth marketing through all those likes, comments, and shares. The extent of your reach is dependent on engagement. By increasing engagement on social media, you're building a stronger brand and reaching new audiences in a very cost-effective way.
How is Social Media Engagement Measured?
Calculating engagement rate in social media can be a bit mindboggling because each network defines engagement differently, and when an engagement rate is provided, it's calculated in the platform's own way.
For example, Facebook's post engagement count includes clicks, comments, reactions, and shares. Twitter counts engagements as any clicks on your Tweet, including Retweets, replies, likes, poll votes, and hashtag clicks.
Some platforms calculate engagement rates for you and use formulas that include reach or impressions. Others don't.
There are also specialty tools like Sprout Social and Hootsuite that can track and aggregate the data. These may pull the native engagement rate from the platform or use their own formula to provide you with engagement metrics.
For greater consistency and clarity, use the following formula:
Engagement Rate = Total Engagement / Total Followers x 100
How to Measure Engagement on Facebook
Facebook Average Engagement Rate by Post = Total Engagement / Posts / Total Fans x 100
Or
Facebook Engagement Rate by Reach = Total Engagement / Posts / Reach x 100
You'll use the formula for Engagement Rate by Post to help identify if your content is hitting the mark with your audience. Calculating Engagement Rate by Reach will give you deeper insights into how your audience is interacting with you.
To get the data you need from Facebook, look for the Insights section. From there, you'll see a page overview section that includes a post reach count and a post engagement count. You can also keep a pulse on the page itself with metrics like page views, likes, followers, and clicks on your CTA button.
How to Measure Engagement on LinkedIn
LinkedIn will take the guesswork out of it for you by providing you with an engagement rate. Their formula is:
LinkedIn Engagement Rate = (Total Interactions + Clicks + Followers Acquired) / Total Impressions
Or, you can calculate the average engagement by post as follows:
LinkedIn Average Engagement by Post = Engagements / Posts / Total Followers x 100
To get the data you need from LinkedIn, visit the Post analytics section.
How to Measure Engagement on Twitter
Twitter Average Engagement Rate per Tweet by Followers = (Likes + Retweets) / Tweets / Total Followers x 100
To gather the data you need from Twitter, visit the Analytics section, accessed from the "More" button in the menu. Bear in mind, Twitter's native engagement count includes everything from follows to clicking a hashtag, which might not necessarily give you a clear picture of what's happening. Furthermore, their engagement rate count involves impressions.
How to Measure Engagement on Instagram
Instagram Average Engagement Rate Per Post by Followers = (Likes + Comments) / Posts / Total Followers x 100
Or
Instagram Average Engagement Rate Per Post by Reach = (Likes + Comments) / Posts / Reach x 100
To gather the data you need from Instagram, visit the Insights section.
What is a Good Social Engagement Rate?
With so many formulas available to calculate engagement rate, there's a wide variance in average rates too. If you're using a formula that calculates engagement by followers, you'll want to be at or above the averages as covered by Social Insider. These include:
Facebook:

0.13 percent

Twitter:

0.05 percent

Instagram:

0.83 percent
The brand calculated LinkedIn's average engagement rate differently, favoring the per-impression rate calculation, so it comes in much higher at 3.16 percent.
How to Improve Your Social Media Engagement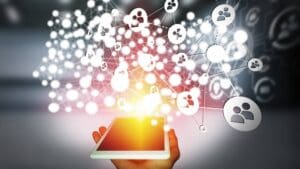 Regardless of where your social media engagement sits today, you should always strive to improve it. Use the tips below to get started.
Define Your Metrics and Analyze Your Current Engagement
As we explored earlier, you can use many different metrics to measure your success. Your first step should be deciding which metrics and formulas you want to use, so you can measure consistently going forward. Then, make note of where you stand.
Get to Know Your Audience
Many businesses think they know their audience, but the data says something different. Explore the data you find on each platform independently.
Demographics
Find out everything you can about your audience on each platform, including locations, gender, age, and other details. Use the information you gather to craft your strategy.
Platforms
Ensure you're on the right social media networks to reach your intended audience. You may attract some followers even on mismatched networks, but they won't be as engaged. Go where your audience already congregates.
Voice
Talk like your customers do. Use the same language, voice, and tone that they use, and ensure you're consistent across all channels. The voice you use on social media is part of your branding. People expect it to be the same everywhere.
Resources
Distinct audiences prefer different types of resources. For example, a group of business owners may prefer whitepapers and case studies over memes.
Timing
Schedule your posts for when your audience is naturally active on the platform, and consider the lifespan of your posts. For example, your Tweets will lose momentum quickly, so you may want to schedule several posts per day. Conversely, Facebook and LinkedIn posts have more staying power. About once or twice per day is generally adequate—anything more may overwhelm your audience.
Select a Strategy That Suits Your Business Goals
Social media can be used to:
Build loyalty

Educate your audience

Collect feedback about new products or services

Enhance brand awareness

Change public perception of your brand

Your engagement goals should align with your overall business goals and why you're using social media.
Make Your Followers Feel Involved
Engagement naturally increases when people feel invited to interact with your brand and community.
Ask Questions
Create posts around questions. These can be anything from "What's the best thing that happened to you today?" to "What's your favorite version of our product?"
Create Polls and Surveys
Polls and surveys can help you shape upcoming products and services or simply get the audience interacting.
Answer Questions
Be sure to promptly answer any questions people ask. Use listening tools to ensure you catch questions even if they're not directly on your page.
Create and Share Valuable Content
Remember that people don't usually go on social media because they want to be sold to. They go because they want to connect with people and brands they care about.
Use Wit and Humor
When it's brand-appropriate, use wit and humor to increase reactions and shares.
Go Visual
Short video clips that can be watched without sound and images tend to perform better than other types of content.
Run Contests and Giveaways
Contests and giveaways can increase buzz around your brand, boost likes, and more.
Add Relevant Hashtags to Your Posts
Hashtags help make your content more discoverable, so you get more engagement and followers.
Stick with It
Because many people don't understand the true value of social media, they use the wrong metrics to measure success. They look for leads and sales rather than engagement. It's not surprising, then, that about half of all small businesses feel that Facebook and Instagram are only "somewhat effective" in promoting their business, per Forbes.
As the saying goes, "If you judge a fish by its ability to climb a tree, it will live its whole life believing that it is stupid." If you judge social media by its ability to bring you leads, you're going to think it's not working for you and quit, even if it is helping you expand your reach and build a stronger brand.
Bring on a dedicated social media marketer and keep the posts rolling. You won't see results overnight. However, if you're following best practices, your efforts will snowball over time.
Get Professional Social Media Marketing Advice
If you're trying to improve your social media strategy, I can help. With a background in business and decades of experience in digital marketing, I understand what it takes to boost social media engagement and build cohesive strategies that work together to strengthen businesses and boost revenue. Contact me for a complimentary consultation.