Ready to create a referral program? A strong referral program can accelerate business growth and amplify profit. However, effective programs draw on many other areas of digital marketing, so they're typically implemented after things like your website, email marketing, and social media are shored up. Give me a few minutes, and I'll walk you through the benefits, some examples, and how to create a referral program that gets results for your business.
What is a Referral Program, and Why Should You Start One?
Eight in ten people say they trust word-of-mouth recommendations from friends and family more than any other source of information, according to Nielsen. Referral programs increase the number of word-of-mouth recommendations your brand receives to capitalize on this.
Benefits of a Referral Program
If you ask most people what the value of creating a referral program is, they'll tell you it's bringing in new clients. That may be true, but the benefits far exceed this.
Raise Brand Awareness: The average person mentions 56 brands in conversation each week, according to Deloitte. Referral programs keep your brand top-of-mind to ensure it's talked about.
Improve Conversions: Referred clients are three to five times more likely to convert, Annex Cloud
Decrease Churn: Referred clients have 16 percent lower churn rates than their counterparts, per Wharton.
Boost CLV: Customer lifetime value is twice as high for referred clients, Journal of Marketing
Increase Profit: Referred clients are 25 percent more profitable than their counterparts, according to Wharton.
Multiply Referrals: Referred clients refer twice as many new clients, per Journal of Marketing, paving the way for exponential growth.
What Are the Different Types of Referral Programs?
Referral programs can be broken into two categories: customer referral programs and referral partner programs.
Customer Referral Program
Up to 80 percent of a typical company's referrals come from current or past clients, according to McKinsey. A traditional client referral program helps you boost referral volume with this audience. This page will focus more on customer referral programs.
Referral Partner Program
Based on McKinsey research, 20 percent of referrals come from non-client sources. This is where a referral partner program comes in. Instead of targeting clients, you'll target other entities that refer to you, such as brands with shared audiences.
Referral Campaign Ideas and Examples
There are lots of ways to run an effective campaign. Below, we'll explore some common ways brands incentivize referrals and specific referral program examples for each.
One-Sided Incentive
One-sided incentive referral programs provide only the referring party with a reward. This may be cash, an account credit, product discounts, free products, upgrades, or something else of value to the referrer. Shoeboxed, for example, gives its customers a 10 percent commission. It's paid out monthly for the first year each referral is active.
One-sided incentive programs may be used the entire duration a referral program exists. They're used more often for referral partner programs but can get traction for some customer referral programs with the right incentive.
Social Gifting
Social gifting referral programs work similarly to one-sided incentive programs, though both the referrer and the referred person receive a reward. For example, PayPal uses a point system that gives both parties the equivalent of $10.
Social gifting programs tend to perform better than one-sided incentive programs because people feel like they're providing their referrals with something of value.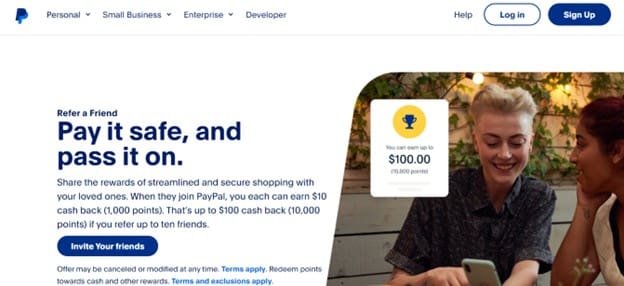 Contests and Giveaways
Sometimes, brands run contests or giveaways for one or two weeks at a time to renew interest in referrals. Brands may continue running their one-sided incentive or social gifting program during the contest or momentarily pause it.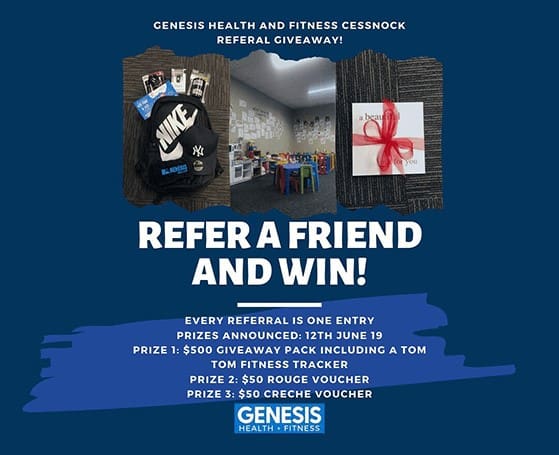 The most popular method is to count each referral as an entry into a giveaway, though other methods, such as rewarding the top referrer, are also common. Genesis, for example, provided one entry per referral into a contest with three prizes, including a grand prize valued at $500.
Fundraisers
Fundraiser referral programs can perform well if the brand and customer base feel very strongly about a cause. These also tend to be short-term campaigns to rejuvenate a standard referral program, though some brands run them consistently.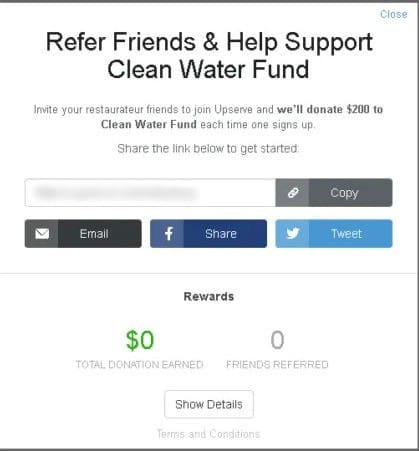 There are two main approaches to referral fundraiser campaigns. With the first, your brand partners with the cause and taps into their audience to request referrals while pledging to their cause. With the second, your brand selects a cause and pledges a donation for each referral. Upserve took this approach and offered a $200 donation for each referral that became a customer.
Referral Tiers
Referral tiers can be used in conjunction with a one-sided incentive program or a social gifting program, though in this case, the referring party's rewards grow as they refer more people. Pinto uses referral tiers for its referral program, giving patients a $25 gift card for referring one patient, a $50 gift card for referring two patients, and so forth.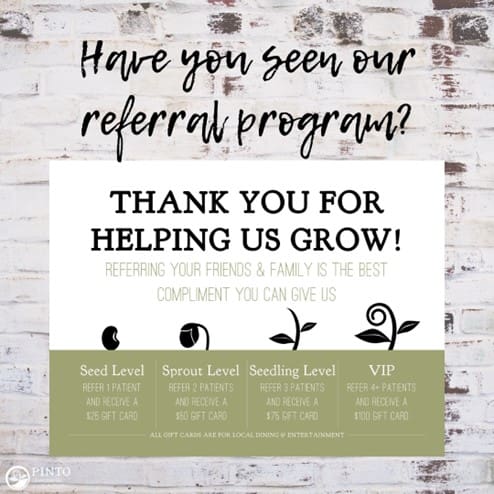 How to Create a Referral Program
Now that you've seen some examples and have more background let's explore what's involved in setting up your referral program.
Step 1: Set the Stage for Success
I typically consider referral programs as "distant fruit" on the digital marketing tree. They're a very effective way to accelerate growth, but they draw on all digital marketing channels, from website to email and social media. You must be strong across all these areas before deploying a referral program. Success also depends on having happy customers, so you'll also want to ensure you're delivering the best possible products or services and prioritizing customer satisfaction.
Step 2: Define Clear Objectives for Your Referral Program
Decide who you want to reach as your first step. While some brands may be able to create a referral program that works for all their customers, most will need to at least tailor the creative assets around specific personas, if not create completely unique referral programs for groups of customers.
Then, consider your goals and the best way to measure your results. For instance, you might be more interested in generating brand awareness. Likes or tags on social media may be ideal to track in this case. Most brands focus on leads or sales. Narrowing it down between the two can help you refine other campaign details.
Step 3: Choose Your Referral Program Rewards
It's essential to provide an incentive that reflects the value of each referral. This will be different for each business. For example, a new client being referred to an attorney may generate $10,000 or more, while a new client for an apparel company may only generate $400.
Your customer lifetime value (CLV) will shed light on how much you earn from each customer, so it's easier to determine how much you can afford to acquire a customer and invest in your referral rewards program.
Once you know how much you can invest, consider some of the examples highlighted earlier, such as:
Product Discounts
Free Products
Product Upgrades
Account Credits
Gift Cards
Cash
Giveaway Items
Step 4: Select Tools and Develop Workflows
If your industry generates few referrals, you may be able to manage your referral program with tools your marketing team already has access to, such as UTM tracking codes, CRM, and email marketing platforms. However, most brands will benefit from leveraging a dedicated referral platform that automates the process, down to delivering your selected rewards, tracking, and reporting.
With this in place, you can define workflows for requesting referrals, thanking clients for referrals, and nurturing your referrals.
Step 5: Promote Your Referral Program Effectively
With your technical setup established, you can now develop and launch creative assets for each stage of your referral program process. Ensure your marketing team has access to all related persona documentation and understands the whole flow so messaging remains consistent across channels.
If your clients are sharing assets rather than providing you with the contact information for their referrals, also ensure that each person is equipped with a unique UTM code that tracks their referrals for them and that they understand how to use it.
Website
Create a clear and simple landing page that outlines the benefits of your referral program and makes it easy for clients to take action. If it makes sense to do so, consider linking to it throughout your website on key pages, such as a customer login page or thank you page that's displayed after a purchase.
Social Media
Referral programs that are rooted in giving, such as social gifting and fundraisers, as well as time-bound programs like giveaways, may perform well on social media.
Email
Plan to reach out to your clients regularly with a dedicated email campaign. Be sure to segment your lists for greater personalization. For instance, those who have not referred should be given reasons to start. Those who have referred can be reminded of what they've earned so far and encouraged to refer more.
It's also a good idea to automate thank you messages each time a customer refers someone. Bear in mind, however, that a personal thanks via phone may mean more to your client and could result in even more referrals. This approach should be leveraged in industries where it's challenging to obtain referrals and those with high-dollar CLVs.
Customer Service
Provide your internal team with information and assets they can use, too. For instance, account managers and customer service agents who regularly connect with clients are often the first to know a customer is thrilled with your company. As these opportunities emerge, they can verbally encourage the client to refer others and follow up the discussion with an email drafted via a CRM template.
Step 6: Monitor Your Referral Activities and Incentives
Track the results of your referral program just as you would any other digital marketing initiative. Experiment with different rewards and approaches to see what works best to improve your results over time.
Get Help Creating a Referral Program
As a digital marketing consultant with a background in business, I help all my clients create effective referral programs when they're ready to move into more advanced digital marketing strategies. If you're ready to create a referral program or need help setting up or strengthening some of the precursor initiatives, I'm happy to help. Contact me for a complimentary consultation.