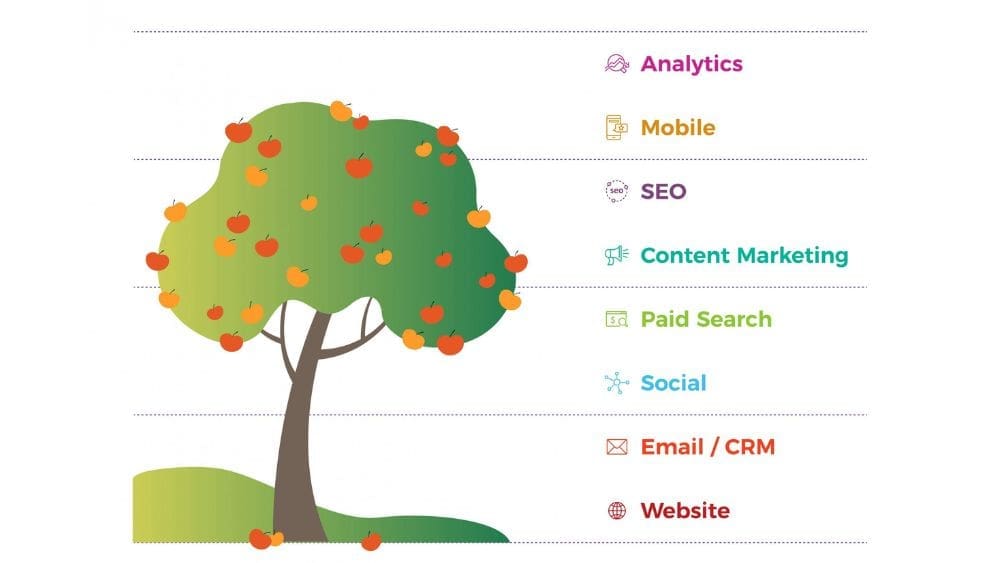 The digital marketing tree depicts the various marketing channels that go into promoting a business online and the ways in which those marketing channels and their strategies intersect with one another and increase your reach far beyond what traditional marketing can do. To simplify the complexity of the various elements involved in digital marketing, I break them down based on importance and priority by using the tree-fruits analogy!
Ground Fruit
A website and email marketing are two of the most basic elements of digital marketing. Your website serves as the foundation for every other element of your strategy. As you can see, every strategy in the diagram leads back to the red rectangle that represents your website. This indicates that the end goal of each strategy is to refer people to your website in order to promote conversions, brand awareness, etc.
Email marketing is one such strategy, as newsletters and other email lists categorize current and potential customers and keep driving them back to your website.
Low Hanging Fruit
Social

Media Marketing

Paid Search
As the low-hanging fruit of the digital marketing tree, Social Media and Paid Search efforts represent opportunities to create a large impact with a minimal investment.
For instance, once you've decided to invest in a search campaign or social ad campaign, your digital advertising campaigns will require ongoing changes and constant monitoring to make sure that they produce desired results. Also, paid search is a guaranteed way to start driving traffic back to your website and create results faster than organic strategies.
Choosing one or two social media platforms to focus on and establishing your online networks is another low-cost, high-reward technique. Platforms such as Twitter, Facebook, Instagram, LinkedIn, Pinterest, and YouTube present perfect opportunities to reach potential customers and increase brand awareness. Sharing updates and fresh, high-quality content regularly on a handful of platforms will give you a strong presence without demanding a large investment. Of course, you will need an effective social media strategy to reap the benefits of this channel.
The lower portion of the tree shows the way in which paid ads (pay per click or PPC) and organic social media content can be integrated. Using these two tactics together will simultaneously allow your content to reach new people (paid) while cultivating existing relationships (organic).
Mid-Range Fruit
SEO

(

Search Engine Optimization

)

Content Marketing
SEO and content marketing are elements that fall under the mid-range category of digital fruits. These strategies require comparatively larger resource investments to develop, plan and implement than the aforementioned low-hanging digital fruit.
Unlike paid search, SEO is more complex and takes longer to deliver results. That being said, having a high organic ranking for industry terms is a huge advantage to have over your competitors. Taking SEO into consideration early is a smart choice as it takes time to build enough content, optimized web pages, and referral links to have strong search rankings.
In terms of content marketing, it is more time-consuming than creating simple social media content. Detailed pieces of content such as blog posts or articles, infographics, ebooks, videos, and how-to guides require a bit more research and time to prepare. While the content of this nature takes time to create, its impact and value are significant. These elements help establish your organization as an industry leader and get people in the habit of turning to it for information.
Distant Fruit
Toward the top of the tree, you have the digital fruit that takes the most time and planning to leverage. Analytics is an element that can be included in every other digital marketing strategy. From simple analytic points such as social media engagement to tracking paid search conversions, analytics lets you determine whether or not you are achieving your goals with the digital marketing efforts you're dedicating to the different marketing channels and increasing your ROI (return-on-investment).
Components for mobile devices are also technical in nature and more difficult to implement. Apps, QR codes, and local search as avenues for promoting your brand among mobile users.
The digital marketing tree visualizes the basic elements of digital marketing at each stage of the process. Contact me for a complimentary consultation.