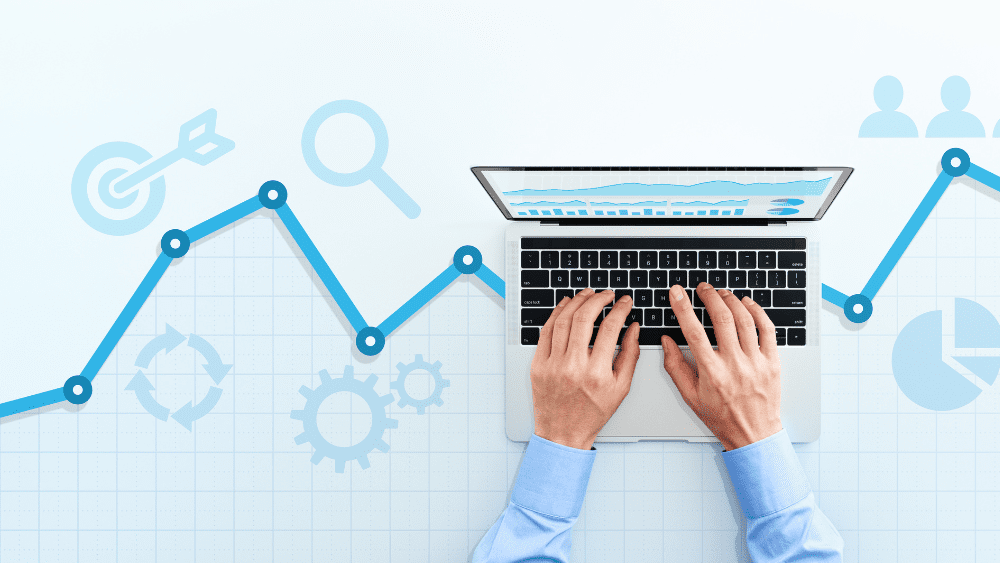 "Data is the new oil," mathematician and data science entrepreneur Clive Humby claimed back in 2006. Data collection methods and how brands leverage data have only grown since then. It's now possible for even very small businesses to gain significant insights into their customers' behavior with a variety of user-friendly, cost-effective tools.
In fact, brands that maximize the value of their data by deploying five or more marketing analytics tools are 39 percent more likely to improve the performance of their marketing programs, according to Google. If you're ready to level up your results with marketing analytics too, this page will help you get started.
Get into a Data-Driven Mindset
Getting into a data-driven mindset is all about identifying what works best for your business and focusing on your unique strengths to improve your marketing results.
Questions Your Data Should Answer
As you establish your data collection protocols and decide what to track, keep an eye out for data that can answer the following questions:
What do my customers need and want?

Which of my campaigns and channels are most effective right now? You should be able to answer this regarding revenue, ROI, conversions, and more.

How does my marketing compare to competitors?

How does our audience interact with our brand?

How should my budget be allocated?
Key Metrics to Track
Often, those questions can be answered by tracking the following metrics: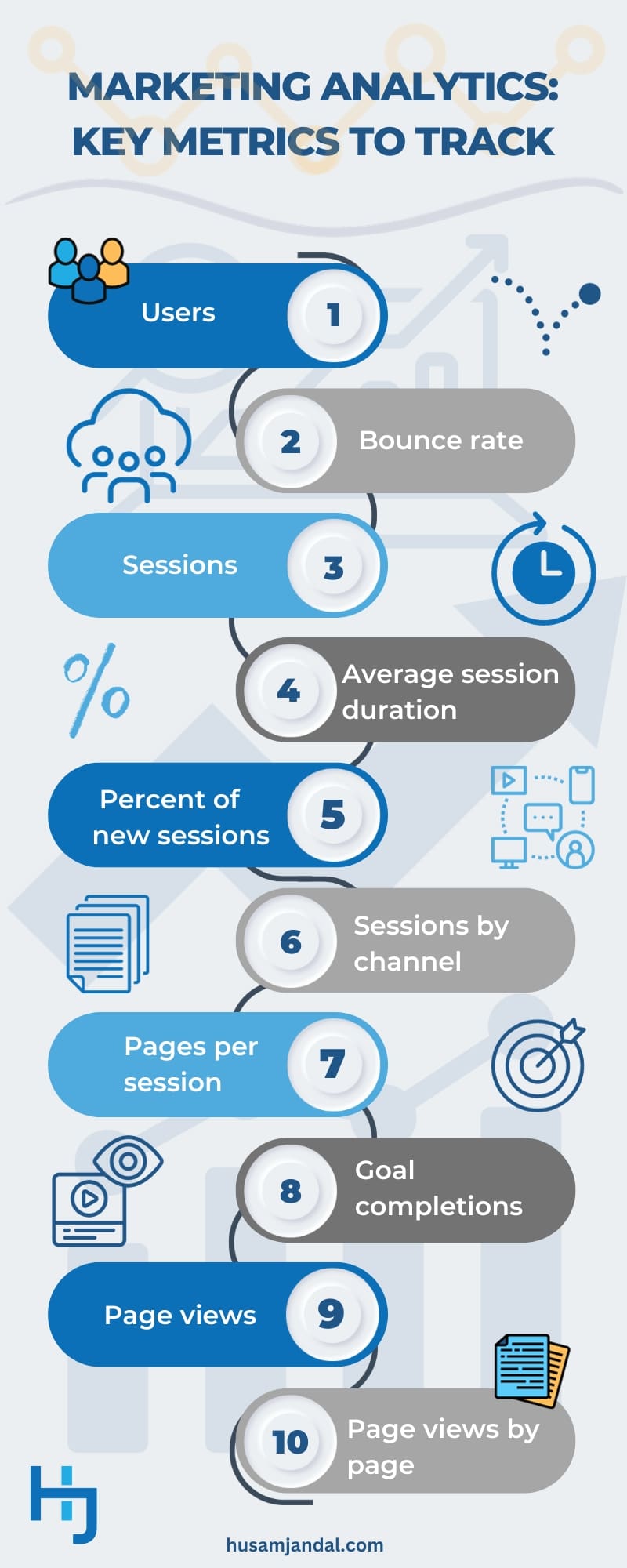 Users

Bounce rate

Sessions

Average session duration

Percent new sessions

Sessions by channel

Pages per session

Goal completions

Page views

Page views by page
Organize Your Data and Establish KPIs
It's easy to lose track of what really matters with so much data at your fingertips. Instead of monitoring everything, focus on the metrics that relate to your key objectives. This process was covered in-depth in "Digital Marketing Foundations: 6 Things to Do Before You Start Marketing," and involves considering your business goals, how those translate into marketing goals, how you can help reach those goals through optimization, and which KPIs make the most sense to track.
Implement Data Governance and Regular Review
Most brands understand that they should be tracking the success of their campaigns. What they lack is a clear strategy and schedule.
For instance, more than half of the businesses I work with have a sales cycle that lasts longer than three months. That means the brand cannot possibly know if a campaign is successful for at least four months after kickoff. Yet, what I see when I'm brought on as a consultant is that most businesses are measuring the success of their marketing initiatives the first month they're running, and very few continue measuring success after a campaign ends. This means they're also typically missing months of data that can potentially change whether an initiative is considered successful.
As you develop internal standards and determine when to measure success, keep factors like this in mind. Add these milestone checks to your calendar or project management tool to ensure you return to each campaign sometime after the conclusion to evaluate the data.
Also, set aside time as part of your quarterly, semi-annual, or annual marketing activities to evaluate your current technology and whether your current data collection and analysis approach supports your business and marketing initiatives.
Implement Marketing Analytics Tools as Needed
You may have implemented marketing analytics tools that will allow you to gather these metrics as part of your previous initiatives. If not, you may want to add some or all the following types of tools to your martech stack.
General Website Analytics
A general website analytics tool will allow you to track all the metrics included above. Google Analytics is the most popular option and is completely free to use.
Website Heat Mapping
A heat mapping tool tells you which parts of your webpage users focus on the most. That way, you can make adjustments to help people stay on the page longer, move through the flow more, or take your intended action quicker. Some popular heat mapping tools include Hotjar, Crazy Egg, and Smartlook.
A/B Testing
A/B testing tools allow you to compare the effectiveness of a current marketing asset against an alternate version. For instance, you might run an A/B test to see if your conversions improve when you change the color of a button.
 You can run A/B tests on your website, paid ads, emails, and more. Most paid advertising and email marketing platforms have native A/B testing tools. To run A/B tests on your website, you can use a program like Optimizely, AB Tasty, or Adobe Target.
Social Media
Social media platforms offer native analytics tools as well. However, it can be helpful to view aggregate data in one place or monitor for brand mentions and sentiment across the net. Tools like Hootsuite and Mention are helpful in these cases.
Email
Use a dedicated email marketing tool such as Constant Contact or Klaviyo that provides analytics to manage your email campaigns.
All-in-One/ Multipurpose Tools
Many platforms allow you to manage all these marketing activities in one place and can provide you with all the data you need. For instance, HubSpot and Salesforce include extra features as add-ons. If you're already signed up with something like Zoho One, you will already have access to these features through various platforms, such as Zoho Social and PageSense.
Use Your Data to Boost Marketing Results
Once you have quality data and the right mindset, let's look at some of the ways you can leverage it to boost your marketing results.
Personalize the Customer Experience 
Nine in ten consumers say they find personalization appealing, and eight in ten say it increases the likelihood that they'll do business with a company, according to Epsilon. It can dramatically amplify your marketing results and is easier to integrate than you might think.
For instance, if you're using a standard email marketing platform, your data can be used to automatically segment lists and send messages to people based on their stage in the customer journey, content they've viewed, location, and more. E-commerce brands can take this a step further and tailor emails based on browsing behavior, previous purchases, and abandoned carts.
It's just as easy to personalize website experiences using a tool like Google Optimize. For instance, you can personalize pages based on the reader's location, referral source, or even the reader's purchase history.
Run A/B Tests to Optimize Your Campaigns
Try to perform A/B tests on every campaign you're running. Again, most email marketing tools have this capability already. You can use tools like Google Optimize, Zoho PageSense, and Optimizely to run tests on your website.
Approach A/B testing methodically. Select the channel you want to test, decide which tool is best, and identify the best metric to measure your success. Keep a running list of each variable you'd like to test and track everything in one place so you can look back on your results as needed. When you find a variant that outperforms your control, implement it, but also keep testing. It's only through incremental improvements that your brand will see significant gains.
Use Data to Improve Buyer Personas and Create Relevant Content
The more data you gather, the easier it becomes to see behavior patterns within specific groups of website visitors. For instance, you may notice that a particular persona often comes to your website from Facebook. That information can be added to your persona documentation and leveraged in future campaigns. Keep your eyes peeled for patterns in preferred content mediums, topics, and goals to ensure your personas are as accurate and comprehensive as possible.
Social listening tools can also play a role here, as they allow you to identify what your audience talks about anywhere online. Use the social listening tool of your choice to search for mentions of your chosen keywords for content inspiration and to help round out your personas.
Keep Collecting Data for Future Use
The strategies outlined here are ideal for brands just starting out incorporating data into their overall digital marketing strategies, but they only scratch the surface of what data can do for your marketing efforts and brand. Keep collecting and saving your data. It will be helpful as you expand and improve your digital marketing in the future.
Get Help Making the Most of Your Digital Marketing Analytics
If you're not sure how to kick off a marketing analytics strategy or how to turn your numbers into actionable insights, let's talk. Contact me for a complimentary consultation.