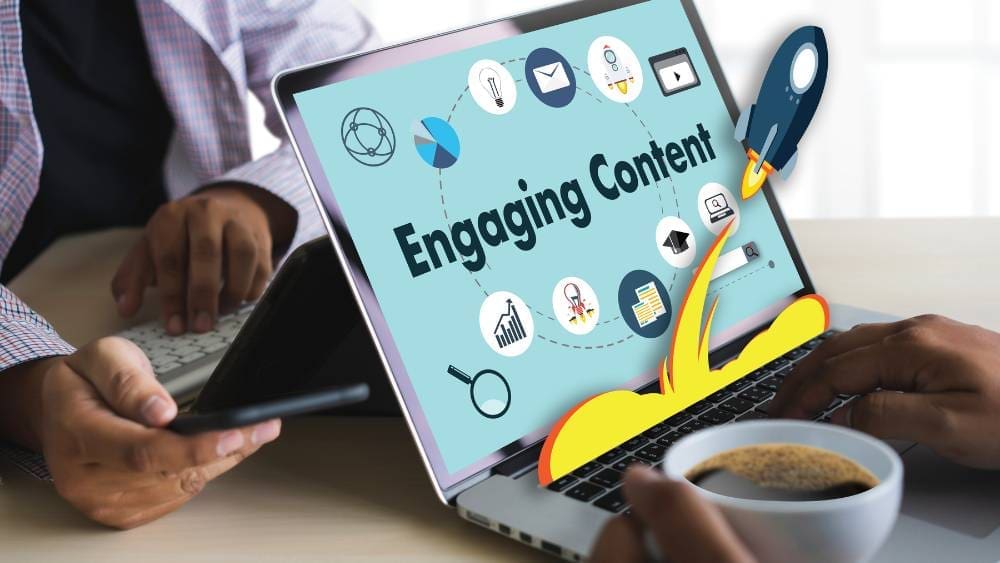 Content is one of the best investments a business can make. It helps with every stage of the customer journey and influences audience decision-making more than any other technique, HubSpot research shows. Compared to traditional outbound marketing, businesses can expect to generate three times more leads through content marketing and spend 62 percent less too, according to Content Marketing Institute (CMI). It's so powerful that four in five companies see content as a business strategy, not just a marketing tactic, CMI surveys find.
Of course, you can't just draft a few words on your "lunch break" and expect your post to go viral. Quality content creation takes time, and you need to have a strong content marketing strategy in place to ensure your efforts deliver ROI. On this page, I'll walk you through my 11-step process, so you can start creating content that maximizes audience engagement, boosts lead generation, and bolsters the customer journey.
Step 1: Get Resources in Place
The resources you set aside can make or break your content marketing efforts. These can be summed up as the three Ts: time, talent, and tools.
Time
Content marketing involves more steps than just content creation. As you allocate time, leave room for strategy, creation, and distribution. The guidelines below may help as you're ramping up. Adjust them to your needs as you review what each group entails on this page and as you get a better feel for how much time your team needs to complete individual tasks.
Allocate Around 20 Percent of Your Time for Strategy and Management
Strategy-related tasks include things like mapping out your content calendar, choosing themes, and identifying content gaps in your buyer journey. Management-related tasks involve assigning tasks to your content team and reviewing them. Expect this portion to take longer, as you're just starting. However, the time investment reduces as you put processes in place and automate some of the management tasks.
Allocate Around 20 Percent of Your Time for Content Creation
Content creation includes things like writing, editing, optimization, video creation, and graphic design.
There's a prevailing belief that brands that get the best results follow the 20/80 rule, as GoDaddy reports. That means they spend 20 percent of their time on content creation and 80 percent on content promotion. It's not a bad strategy, but what it omits is that those brands are typically lumping their strategy time in with promotion.
Unlike your time budget for strategy, creation time won't dramatically drop. However, you might see incremental reductions as your team develops more proficiency in areas like branding and voice.
If you're presently only using each piece of content once, you'll see shifts from that as you move to this process as well. For instance, a long blog can be reformatted into several short ones, an infographic, a video, social media posts, and more. The subsequent pieces may receive the same amount of engagement but will take less time to create. Likewise, if you're translating content, it should take less time to translate it than it did to craft the original piece. 
Allocate Around 60 Percent of Your Time for Distribution and Promotion
Distribution and promotion tasks include activities such as posting to your site and sharing via social media, email, and ad campaigns.
You should see some time reductions over time if you equip your team with the right tools and automate certain processes. For instance, you might create a blog that's ideal for someone at the beginning of the customer journey. They've just discovered they have an issue and want to explore possible solutions. You're not going to give them just that one blog. You're going to provide them with a series of blogs trickled out over time. So, you'll need a tool that allows you to do that, and your team needs time to set up the automation. Once it's set up, maintaining it requires minimal time.
Talent
Content creation is never a one-person job. You may have someone on your team who can perform multiple duties, but they're not going to be an expert in each area. That means they'll usually spend more time than necessary on certain tasks, the piece won't be as professional, and you won't get the best results possible.
Half of all marketers outsource some or all their content marketing efforts, CMI reports. If hiring an employee to perform specific tasks is not cost-effective, outsource it to a pro. Depending on your content marketing strategy, you will likely need to fill the following roles:
It's also worth noting that some businesses leverage pay-per-click (PPC) ads or social media ads to increase content distribution. If you use this method, you will also need the help of a PPC specialist.
Tools
Investing in the right tools will save your business money and help the team work better together. A few types of content marketing tools you may want to invest in are outlined below:
Analytics Tools (Google Analytics, Clicky, Matmoto, etc.)

Social Media Publishing (Sprout Social, Hootsuite, Zoho Social, etc.)

Email Marketing (Mailchimp, Klaviyo, Campaign Monitor, etc.)

Project Management

(Wrike, Asana, Trello, etc.)

Customer Relationship Management Software (CRM)

(Zoho CRM, HubSpot, Salesforce, etc.)

Content Management System (CMS) (WordPress, Drupal, Magento, etc.)

Content Creation and Editing (Canva, Adobe Creative Suite, Grammarly, etc.)

Marketing Automation

(Zapier, Zoho Flow, Integrately, etc.)
Although this list may seem like a lot at first, you may already have access to some. For instance, if you operate a WordPress site for your business and can add a blog to it, you already have your content management system. Other tools, like Google Analytics, are free. Some may be bundled with tools you already have too. For instance, a CRM, social media, or email marketing tool will likely provide automation. Many CRMs bundle additional marketing tools as well.
Step 2: Know Who You're Creating Content For
Many businesses take a one-size-fits-all approach to their content. This methodology assumes that every customer and potential customer comes in with the same history, identical problems to solve, and will want the same solution for the same reason. Unfortunately, that doesn't happen when real people get involved.
Roughly two-thirds of the most successful marketers from CMI's surveys indicate that they craft content based on specific stages of the customer journey and address the audience's informational needs, which is achieved through leveraging personas.
Personas
Create detailed personas that represent specific fictional people who might use your solutions. Going forward, each piece of content you create will be crafted with a specific persona in mind. For instance, you're not creating a blog for a random business that might need your staffing company's services. You're writing a blog for "Emma," the head of HR at a mid-sized hospital. Because HR is always short-staffed and the hospital has a high turnover rate, Emma appreciates a streamlined process and only wants experienced professionals sent to her. As you can probably see, there's going to be a big difference in the way someone writes for a faceless entity versus how they write for Emma.
Stage of Customer Journey
People need to hear different messages depending on their readiness to purchase. Because of this, your content should be tailored to one of the stages of the customer journey.
1. Awareness
During the awareness stage, your prospective client is aware they have a problem that they want to solve, though they might not fully understand what their underlying issue is or what solutions are available. Depending on your industry and the persona, this person may be Googling their questions, searching forums, reviewing their favorite industry websites, or exploring other sources of information. They want answers to their questions, resources, insights, opinions, and research.
2. Consideration
During the consideration stage, your prospective client understands their problem and wants to understand potential solutions better. They're actively researching your product.
3. Decision
At the decision stage, your prospective client has a shortlist of solutions and is trying to pick the best one for their specific needs.
4. After Purchase
Don't stop marketing after someone chooses your business. Improve satisfaction and retention by sending clients useful tips, industry insights, and company news. Info about referral and loyalty programs is great during this stage too.
Step 3: Know Why You're Creating Content
Get a high-level overview of what the business and clients want, so you can ensure everything you create is designed to fit a specific need.
Company Goal
Everything your marketing team does should tie back to an overall business goal. Some examples of common goals include:
Boost Brand Awareness

Build Credibility/ Trust

Educate Audiences

Increase Client Loyalty/ Reduce Churn

Lead Generation

Lead Nurturing

Client Acquisition
Content Audits
A well-rounded content marketing plan includes content that addresses the needs of each persona at each stage of their journey. Perform an audit of all your content regularly to identify any gaps. Don't expect to create all the missing pieces at once, especially if you're just starting out. Just make a note of them for now and sprinkle the topics you need to cover throughout your content calendar later.
Step 4: Get Inspired
By now, you should have a firm grasp of who you're creating content for and a general idea of the type of content they need, but you haven't selected topics your personas will appreciate. Use some or all the sources below to generate ideas.
Your Analytics
View website, blog, and social media analytics to see what topics your audience already engages with the most. See if there are ways to expand on content they enjoy or if there are any knowledge gaps you can fill.
Keyword Research
Use a tool like the Google Keyword Planner or KeywordTool.io to find out what terms and questions people are typing into search engines. See if you can answer questions or provide unique insights on them.
Trending Topics
As an authority in your industry, you may already know what the latest buzz is about. If not, use a tool like Google Trends to identify what people are talking about and determine if you can address it too.
Internal Teams
Ask your team for ideas. Sales reps, for example, will likely be able to tell you what people are asking about the most, what people are excited about, and if there are new objections or concerns you can address through content. Customer support agents can tell you which product features people aren't leveraging, which ones they're struggling with, and which aspects they've grown to love. Even your product development team may be able to offer suggestions regarding upcoming release teasers or what kind of feedback they want to gather from clients.
Social Listening
Pick up a special social listening tool or set up Google Alerts to keep an ear out for mentions of your brand, related products and services, and competitors. You may hear something that's worth addressing.
Competitor Content
Don't copy everything your competitors are doing. If they have a good marketing team, they're experimenting, and some of their efforts will flop. Instead, keep an eye out for content they create that gets a lot of engagement and see if you can create something similar with your own spin on it.
Poll Your Audience
Ask your clients what they want to learn about. This can be done quickly and easily via social media polls and email surveys.
Review Your Content Calendar
Refer to your content calendar if you can build on any themes already in play with additional content.
Step 5: Select the Best Medium
Each persona will appreciate different content mediums. The most effective medium will vary throughout the customer's journey too, as the prospective client's intent shifts at each stage. Some types of content you may wish to work with include:
Blogs

Case Studies

Checklists

Courses

Guides and eBooks

Infographics

Interviews

Kits, Tools, and Calculators

Newsletters

Podcasts

Social Media Posts

Videos

Webinars

Whitepapers
Step 6: Choose the Right Channels
The best distribution channels for your content will vary based on the type of content you create, the goals for that content, and the persona.
Your Website

Your Blog

Your Social Media Profiles

Email Newsletter

PPC

Social Ads/ Boosted Posts

Guest Posts on Third-Party Websites
Step 7: Weave Your Work into Your Content Strategy
It's helpful to think of "craveable" content in a broad sense. Certain strategic measures, like timing the release of your content perfectly and working with experienced creatives, will deliver an instant engagement boost. Others are more about playing the long game and extending the life or functionality of content, so you get more engagement over time without investing as many resources as you did during the initial creation phase.
Review and Update Your Content Calendar
You should already have a content marketing calendar. This document includes the medium, channel, persona, and other details about each piece of content your team plans to produce or distribute each quarter.
When you're first framing it out for the quarter, you'll likely have all recurring content needs noted. For instance, your calendar might note that you release a blog on Tuesdays during the first and third week of the month, a video on the second Tuesday of the month, a Facebook post each day, and so forth.
If the content you're planning fits into one of these slots, note it on your calendar. If not, find space for it where it won't conflict with other releases or schedule it out further. A good content calendar is somewhat flexible, allowing the marketing team to capitalize on trending topics while they're still hot. If that's what you're working on, don't be afraid to bump your evergreen content out more to make space.
Explore Ways to Maximize Value
Be creative with your mediums and channels. You can share the exact same blog on the same channel a few times as long as you develop different ways to present it and spread the posts out. You can change the medium and share different versions of the same content too.
It's also worth noting that evergreen content is always available for resharing. If something you're creating today aligns with other pieces you've created, consider compiling them into a guide, building them into a drip campaign, or finding other ways to give your work extra life. Add these to your content calendar as well.
Add Tasks to Your Project Management Tool
Once your content calendar is complete, break the individual tasks up and add them to your project management tool, then schedule the tasks, and assign them to specific team members. Make sure you give each person enough time to complete the necessary work and leave enough breathing room in your schedule to ensure delays don't prevent you from releasing the content on the day noted on your calendar.
Bear in mind, most project management tools offer templates and automation to streamline this process, so it can go rather quickly after you set the first one up.
You can also schedule similar tasks as blocks to help your team work faster and improve consistency. For instance, if you're optimizing your content for SEO keywords, you may want to give your SEO team your full content calendar at once and ask them to provide appropriate keywords for everything together. Following that, if you have one writer creating a blog post and your social media posts, have them create them together simultaneously. Then, set your tasks up so your graphic designer can provide you with appropriate images for the blog and social posts right after.
Lastly, leave room for some type of review process. Depending on the volume of content being created and the company's structure, you might want someone to review for errors and clarity first, then have someone in a managerial or leadership role provide their seal of approval.
Tailor Tasks to Your Needs
The sample process and flow outlined here are not the only way to approach things. You can shift tasks based on your company's needs and goals. For instance, if your primary goal is to increase organic search traffic, then you will want to start by creating a task for your SEO team to provide you with keywords for all your topics before you choose who you're writing for or what to write about. The important thing is that you hit on all six steps covered so far before progressing to step seven and that all the details involved align with one another. 
Step 8: Create Content They'll Love
We're now three-quarters of the way through our content marketing strategy and just reaching the content creation stage. This is why content creation was only allotted 20 percent of the total time budget earlier. It's not less important. Simply, many strategic initiatives are involved in ensuring content receives maximum exposure and engagement.
Because you'll have an expert creating the content if you're following this model, you'll naturally craft professional, on-point, and cost-effective pieces.
When complete, the content should be:
Click-Worthy

On-Brand

Factual

Error-Free

Appropriate for the Persona and Stage of Customer Journey
Step 9: Optimize
Optimization activities such as the ones below increase distribution and boost engagement. These tasks may be a separate step or be addressed during the content creation process. You can also split tasks between the two steps.
Make it Mobile-Friendly
Half of all content is consumed on mobile devices. Therefore, your content should load quickly and be easy to view or read on any device.
Include Keywords
All written content should have appropriate keywords included for SEO purposes.
Make it Accessible
Consider how people of differing abilities will view your content. Issues like low-contrast colors and lack of alt-image tags are often overlooked and make it impossible for some people to understand what you're producing.
Use Hashtags
If you're unsure which hashtags to use on social media, check out what your competitors use or use a hashtag generator tool. Consider intent, though. Particularly in the B2B niche, you may wind up with hashtags your clients would use to attract customers instead of hashtags your prospective client would use.
Make it Easy to Digest
Break content up with headings, subheadings, bullet points, and other techniques that make it easy to scan and understand without fully reading. Try using tools that rate the grade level or ease of reading and keep your language at a level befitting of your audience.
Include a CTA
Always leave your audience with their next step. This increases the odds that they'll stick around and consume more content or move forward with you rather than leaving your site and forgetting.
Simplify Sharing
Explore ways to make your content easy to share. For instance, social media sharing buttons on a blog or email can boost sharing and increase reach.
Review It
Have at least one other person review content before it gets distributed.
Step 10: Distribute
Most content distribution platforms allow you to schedule the release of content in advance. Take advantage of scheduling tools and queue things up.
Remember that, if you stick to a schedule, and your audience enjoys your content, they'll learn to look for it at your normal release times. Hold true to your normal cadence as much as possible to build anticipation and give them a feel-good rush when your content arrives on time.
Step 11: Evaluate and Duplicate Your Success
Review the success of your content and look for patterns that can help you recreate the experience in the future. Some common KPIs include:
Traffic (unique page views by channel and source)

Engagement (bounce rate, time on page)

Impact (CTA clicks, conversions, backlinks)
Get Help Improving Your Content Marketing
Effective content marketing comes down to two things: honoring the audience and staying true to your brand. However, it can be challenging to put processes in place that adequately support these things. If you feel like your current content creation efforts aren't delivering ROI, or you want help improving your overall content marketing strategy, contact me for a complimentary consultation.