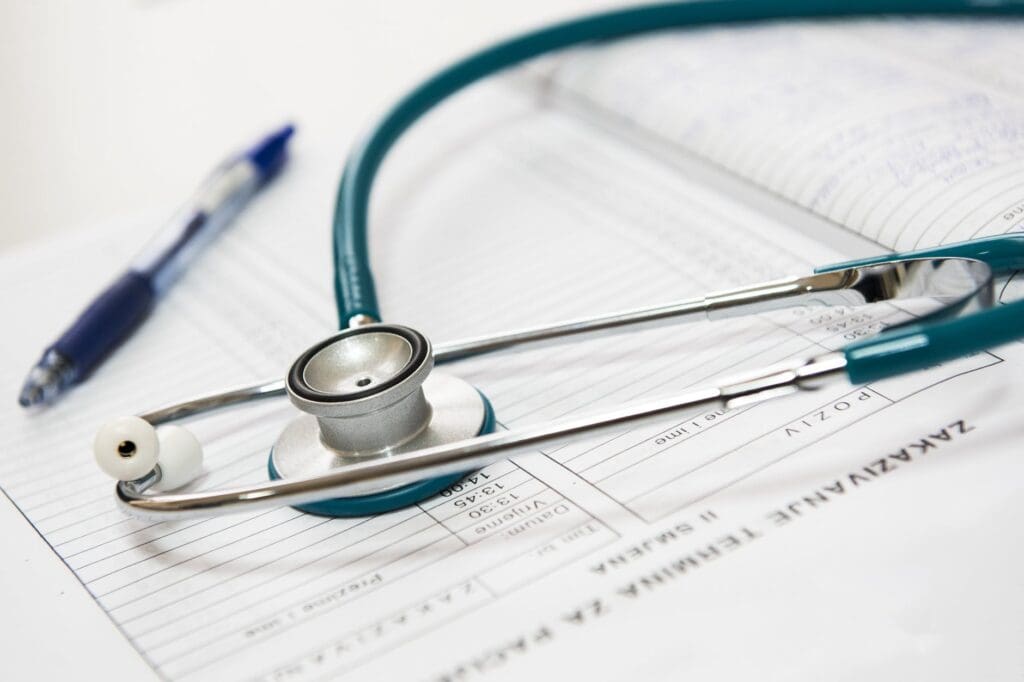 Social media can be an incredibly powerful tool for healthcare organizations, but like the healthcare industry itself, it's constantly evolving. Below, I'll highlight some resources you can leverage to improve your own social media campaigns, provide examples of healthcare companies that nailed it, and show you how to get started.
Social Media Best Practices for Healthcare Organizations
1) Provide Useful and Accurate Information
Unfortunately, the net is rife with misinformation, even within the medical community. At best, this bad information leaves consumers with wasted time and money. At worst, it prevents them from seeking the care they need and may even cause their conditions to deteriorate further. Healthcare institutions can bridge this gap by providing those in need with proper information and advice through social media.
For example, you can provide followers with simple solutions to common ailments and refer people to specialists in their area when something is beyond the scope of what can be reasonably addressed online. Doing so builds trust and can boost your reputation, thus allowing you to market your products and services at almost no cost. However, you should never indulge in self-promotion in the process. Doing so will make your organization seem inauthentic and will send your followers packing.
GE Healthcare Nailed It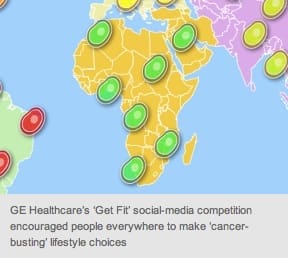 Social media can also be used to raise awareness about healthcare issues and promote a healthy lifestyle. For example, GE Healthcare's Get Fit social media competition on Twitter aimed to raise awareness about cancer prevention and healthy living. The campaign elicited a strong response from the Middle East, with residents in Lebanon, Saudi Arabia and the UAE actively taking part to endorse a healthy lifestyle.
The GE global campaign took place as competition between different continents. Twitter users simply tweeted what they were doing to strive for a healthier lifestyle, with each tweet including a country-specific Get Fit hashtag.
The Get Fit website featured a map showing which continent generated the most "healthy tweets." The winning country in that continent (as determined by open vote) received a $20,000 donation to the Red Cross or Red Crescent society operating in that country.
2) Listen
Whether you like it or not, your clients are on social media and are talking about you. You can either choose to engage and tailor your communication to the audience's needs or ignore them at your peril.
While tracking all the chatter might seem like an extensive process, there are countless tools available to automate the process, allowing you to track and analyze what's being said on Facebook, Twitter and other social media platforms.
3) Initiate Conversation
Your audience may have ideas on how to improve your products and services, but they won't always voice them without being prompted to share. It's up to you to kickstart that conversation. Leverage the power of social media to get feedback on new products, payment procedures, doctor reviews, and more.
For example, a hospital can use social media to give the public updates on the status of a crisis when a large-scale disaster occurs. You can give hotlines for the public to call in case they are stranded, survival tips, number of casualties, and other relevant information. You can also help people find their loved ones who may have been admitted to your facility. On the other hand, a pharmaceutical company can share information on new drugs to fight epidemics and tips on avoiding infection. This will grow your influence among members of the online community as more people seek out and share the information you provide.
Kaya Skin Clinic Nailed It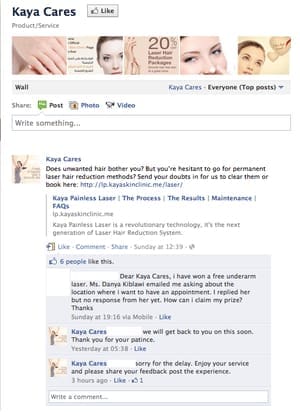 Kaya Skin Clinic is a prime example of how a healthcare brand can actively engage an audience and generate conversation. The skincare specialist replies to questions on Facebook and resolves issues promptly, thereby building strong relationships with customers.
4) Take Action
The most important thing on social media is reputation. Guard yours at all costs and always be truthful. If an issue is raised, you respond to it and act accordingly. Failure to keep your word can damage the reputation of any healthcare institution irreparably.
Check your social media accounts regularly for requests or comments that may need an immediate response. It's better to hire a dedicated employee to handle social media monitoring and responses, but at the very least, assign the task to a specific employee to ensure it gets done.
5) Involve Employees
To make your foray into social media success you have to involve all employees. Make it a team sport and they will gladly contribute to the growth of your influence in the social media space. At the end of the day, employees are people who relate with others on social media. By recruiting them as evangelists you can increase the likelihood of success in your social media campaign.
Social Media Resources for Healthcare Organizations
1) Social Media and Health Care Professionals: Benefits, Risks, and Best Practices (Report)
Published in Pharmacy and Therapeutics, a peer-reviewed journal for managed care and hospital formulary management, "Social Media and Health Care Professionals: Benefits, Risks, and Best Practices" is a high-level research paper that drills into the data. It's a good resource for those who have a solid understanding of the basics and want to try more advanced tactics.
2) The Role and Use of Social Media in Healthcare (Video)
Mayo Clinic director and cardiologist Farris Timimi, MD explains why social media is essential in the quick five-minute video. "This isn't an addition to your job. This is part of your job," he declares.
3) Social media "likes" healthcare: From marketing to social business (Report)
Data compiled by PwC Research shows how the largest healthcare companies are leveraging social media and incorporating it as a major component of their overall business strategy in "Social media "likes" healthcare: From marketing to social business."
4) Can Social Media Have A Positive Impact On Global Healthcare? (Article)
Former Forbes Magazine contributor Andrew Arnold explores the pros and cons in "Can Social Media Have A Positive Impact On Global Healthcare?"
5) Social Media Gets an A+ For Use in Healthcare (Article)
HealthTechZone discusses various social media channels and what patients are looking for when connecting with healthcare providers on social media in "Social Media Gets an A+ For Use in Healthcare."
6) Top 5 Ways Social Media is Used by Healthcare Professionals (Article)
The University of Scranton's "Top 5 Ways Social Media is Used by Healthcare Professionals" outlines alternative uses for social media, which can be particularly helpful if you're struggling to come up with new ideas for posts.
Leverage Social Media for Your Healthcare Organization
If you're overwhelmed by the options or simply don't want to manage the social media marketing for your healthcare organization, I can help. Learn more about my services or contact me for details.