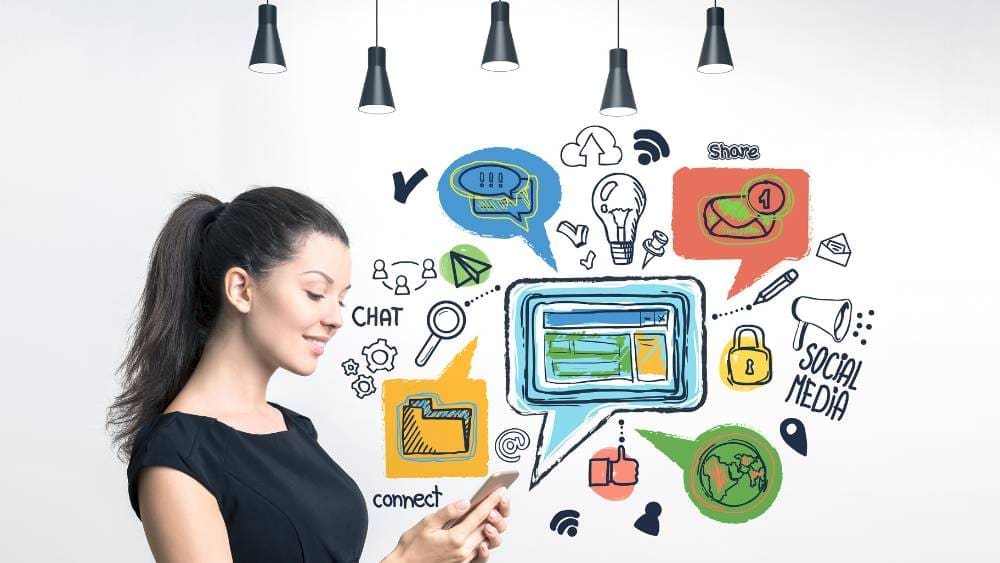 Small business owners often have a love-hate relationship with social media. On the one hand, it can help build brand awareness and strengthen customer relationships. It can also produce leads and sales. That's no doubt why 97 percent of Fortune 100 companies leverage social media, per Entrepreneur, and around 92 percent of midsize and large companies do too, according to Statista.
Yet, small businesses frequently struggle to get the same results their larger counterparts do. Some blame the time investment, while others say it's just not a fit for their brand. So it's no wonder that social media marketing adoption has historically been much lower for smaller companies than others. At one point, nearly a quarter wasn't using social media, per Clutch, let alone incorporating it into a comprehensive digital marketing plan.
The good news is that most brands can get results from platforms like Facebook, LinkedIn, and Twitter. First, however, you need a strong social media strategy that's built around your company's goals and designed from the ground up to produce ROI.
On this page, I'll walk you through the different ways brands leverage social media today, how to create a tailored social media marketing strategy for a small business, and will provide some tips to help you get the best possible results.
How Social Media Can Be Used in Your Business
Social media is versatile and can help your business reach its goals in a multitude of ways. Before starting any initiatives, consider which goals your company wants to work on, then determine if and how social media can support them.
Sales
Most businesses start with the idea of leveraging social media to generate more leads or sales. This is a fair approach. After all, one in five Gen Z, Millennial, and Gen X social media users say they've purchased a directly in a social media app within the past three months, according to HubSpot surveys. However, there are a few caveats to generating sales through social media.
First, B2C brands tend to get better results than B2B brands with this approach. Second, people don't buy until they know and trust a brand. That means that if your goal is to produce sales via social media, you'll need to find ways to build rapport with your audience before you can ask them for anything.
Marketing
Social media marketing is a broad term that includes everything from optimizing your profile to posting, engaging with your audience, advertising, and measuring the results. Its strength lies in its ability to increase brand awareness, bolster branding, and build relationships. These benefits contribute to things like more website traffic, greater sales, increased customer stickiness, improved customer satisfaction, and more.
Customer Service
The vast majority of people on social media expect brands to respond to them, and most want an answer within 24 hours. However, it's leveraged even more by younger demographics. For instance, an estimated one in five Gen Z, Millennial, and Gen X social media users have sent a brand a customer service-related direct message (DM) in the past three months, according to HubSpot surveys. By including customer service aspects in an overall social media strategy, businesses improve customer satisfaction and retention. Because customer service interactions often begin in public posts, providing excellent service can help a brand attract new customers and close more sales too.
How to Create a Social Media Marketing Strategy in 6 Steps
Now that we've covered some of the basics, let's look at the steps involved in creating a social media strategy.
Step 1: Define and Set Realistic Goals
Remember, all your digital marketing initiatives should contribute to reaching a business goal. From there, you can determine which metrics tie into that goal and set targets specific to marketing.
For instance, your company's goal is to boost brand awareness. On social media, you can tell if your marketing is helping you reach your goal by measuring followers, likes, and subscribers. If your goal is to increase client retention, you might focus more on engagement metrics such as comments, post likes, and video views.
Before you set targets, consider where your brand stands today and what your team can reasonably achieve in a month or quarter based on the resources available and current strategy.
Step 2: Research and Understand Your Target Audience and Competitors
Social media is all about relationships. If you don't know who you're building a relationship with, you can't hope to create a connection. Your business should already have buyer personas that can be used to guide your social media strategies. If not, create them and use them in all your marketing activities.
It's also helpful to quickly examine what your competitors are doing. Check out which networks they use, how much engagement they're getting, and if they're leaving any gaps your business is poised to fill. If competitors have been around for some time and experimenting with social media marketing, their profiles will offer all sorts of insights about what your shared audience responds to. This will shorten your learning curve, so your initiatives are more effective right away.
Step 3: Figure Out Which Social Media Platforms Your Target Audience Uses
One reason why many small businesses get social media fatigue is because they try to do it all. Your brand does not need to be active on every social network. Put your resources to work where it makes the most sense. Make a list of all the social media platforms your brand could possibly use, then split it into three groups: primary, secondary, and unleveraged.
Primary Social Media Channels
Plan to spend around 80 to 90 percent of your time on your primary social media channels. These are the platforms your audience already uses and will give you the most ROI. For instance, most people can be found on Facebook. It spans all ages and demographics. It's generally a good primary channel. LinkedIn also attracts a diverse audience but is geared toward professionals. It's a good fit for most brands too. If you have a very visual brand or sell physical products, a platform like Instagram may be ideal as well. Pinterest is roughly the same, but it skews toward a female audience and is more popular with the DIY crowd.
If you're not sure which platforms to select, dig into your personas and analytics. It may also be helpful to see which ones your competitors are leveraging and getting the most engagement through.
Secondary Social Media Channels
No more than 20 percent of your time should be spent on your secondary social media channels. These are platforms that aren't a perfect fit for your current audience but may help you reach a wider audience or connect with people who might become your customers later.
For instance, let's say that your company offers a service geared towards retirees. Your best network will probably be Facebook. However, if you want to start building awareness with people before they hit retirement age, you might also spend some time on LinkedIn. That would be a secondary channel.
Unleveraged Social Media Channels
Some channels aren't going to be a good fit for your brand, or leveraging them will drain your resources without delivering ROI. Of course, you should still claim your brand name on these channels for branding and trademarking purposes, and you'll want to have some familiarity with them in case your audience or their behavior shifts, but you won't use them regularly.
TikTok, for example, was almost exclusively used by teens a matter of years ago. Its earliest users are now adults, and the platform attracts a much larger age demographic these days. TikTok may not be the right platform for your business at the moment, but that doesn't mean it, or another platform, won't be a good fit as a primary or secondary channel in the future. Keep tabs on your unleveraged channels so it's easier to pivot if and when it makes sense to do so.
Step 4: Create a Social Media Content Plan
If you aren't already using one, create a content calendar that covers all your content marketing efforts, including social media. This high-level overview makes it easy to weave themes together to ensure everything flows together. In addition, you'll get more mileage from other pieces you're creating and will solidify the core message with your audience that way.
During this stage, you should also hammer out how often you should be posting to each network and what kind of cadence to follow. For instance, networks like LinkedIn and Facebook have longer post lifespans, so you probably only need to post once or twice per day. The lifespan of a Tweet is much shorter, so you may want to plan several posts per day. This is much easier if your company produces lots of evergreen content and your team habitually presents the same content in different ways.
Again, remember that your social media content strategy should tie back to the persona you're targeting, the specific marketing targets you set, and company objectives. Choose mediums and tactics that align with the goals.
Social Media Strategy Examples
     

Company Goal – Boost Brand Awareness: Increase reach on social media as measured by new followers. Potential tactics include contests, enhanced use of hashtags, sharing fun or educational content, and encouraging user-generated content.

     

Company Goal – Increase Client Retention: Potential tactics include sharing content like product tips and tutorials, encouraging user-generated content from current clients, and product-related polls or surveys. Measure the effectiveness of posts with engagement and monitor client retention rates at a company level.
Step 5: Plan Your Execution
Whether you're outsourcing social media marketing or keeping it in-house, you'll likely have several people involved, and the work will be broken up into stages. For instance, your social media marketing manager may select the topics, then forward the ideas to a copywriter and/or graphic designer. There should be some form of approval or proofreading process, and someone will ultimately upload all your posts to a social media scheduling tool. Because of this, investing in a marketing project management tool makes it easy to assign tasks, track progress, and possibly even monitor time is a good idea.
Transfer the details from your content calendar to your project management tool and assign individual components as tasks to the appropriate person. Be sure to work out the timeline to allow for hiccups along the way and address any dependencies. For instance, if a planned post relates to a blog that isn't created yet, double-check that it will be live in time for sharing. This is much easier when your content is created on a recurring content creation schedule.
Step 6: Monitor, Evaluate, and Improve Your Strategy for ROI
Lastly, it's essential to review the results on a regular basis. On a granular level, your social media manager should know which posts are more popular, so you can duplicate successes. On a broader level, you should review key metrics at least monthly, confirm if you're on track to meet goals and adjust things to improve results when opportunities present themselves.
Tips to Boost Engagement on Your Social Media Posts
By now, you should have a clearer idea of how to plan and deploy. Let's take a quick look at some tips that can amplify your social media engagement strategy.
Keep Your Username Consistent Across All Channels
People will have a much easier time finding your brand and connecting with you when your username is the same everywhere you go.
Communicate with Authenticity
People can tell when a brand is paying lip service versus being authentic, and 90 percent say that authenticity is important when deciding which brands they like and support, according to Social Media Today. Make sure everyone who communicates on behalf of your company embodies the brand voice and behaves in a manner consistent with its values.
Make Your Posts Interactive
One of the best social media strategies to boost engagement is to make your content interactive. This includes things like:
     

Polls and Surveys

     

Contests

     

Fill-in-the-Blank Questions

     

Live Videos

     

Calculators
Post Consistently
Plan out your posting days in advance and stick to the schedule outlined in your content calendar.
Use the Right Hashtags
Hashtags make your content more discoverable, but nearly half of all marketers don't use them, according to HubSpot. Do some research to find out which ones are best for your brand, then include them in your bios and posts.
Be Visual
More than a third of people like to see brand content in video form, and nearly half like to see it in images, according to Statista. Catering to this preference directly translates to greater engagement. For example, LinkedIn posts get 98 percent more comments when they have images, the platform notes. Tweets are also three times more likely to get engagement when visual content is used, Twitter reps say.
Make Sure Your Social Content Brings Value to Their Day
Whether you're providing a laugh, giving a tip, or requesting their insights to improve your offerings, make sure each post you share delivers value to the reader. The greater the value, the more likely they will engage with and share your content.
Get Help Improving Your Social Media Strategy
As a digital marketing consultant with a background in business, I address social media strategy consulting from a holistic point of view. Social media isn't a stand-alone component of digital marketing. It's not even limited to marketing. It impacts everything from your SEO to your website and customer satisfaction and can also influence product development. When you master it, you'll start to see positive changes across all areas of your business. If your social media marketing isn't performing as it should, I can help. Contact me for a complimentary consultation.