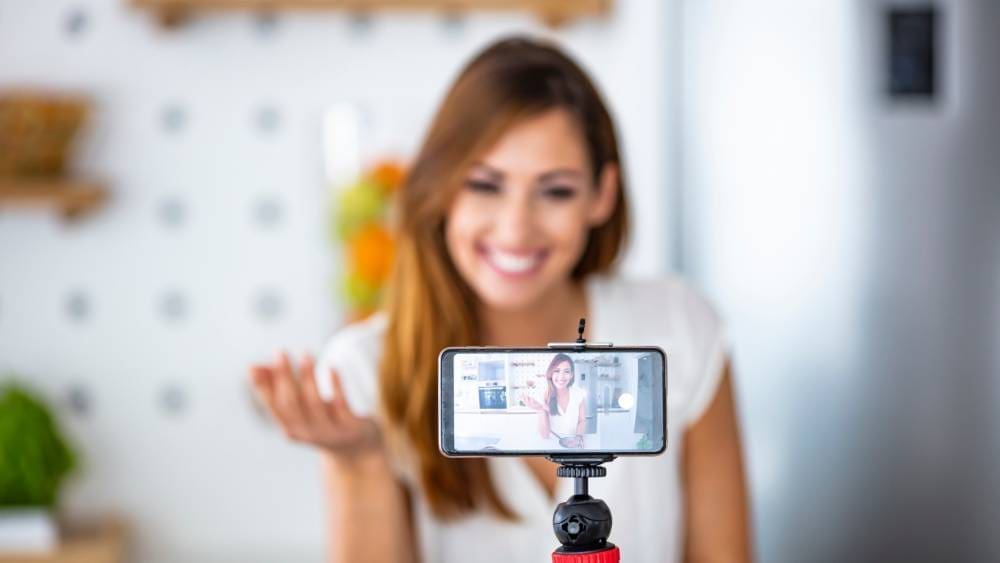 Ready to ramp up your influencer marketing strategy? Brands can gain $5.20 in sales for each $1 spent on influencer marketing per Shopify research. Each dollar spent can deliver $4.87 in earned media too. But, competition is also fierce. Around two-thirds of marketers are increasing their influencer marketing budgets, according to Statista, so it's more important than ever to go into it with a clear strategy that will help you get top ROI.
On this page, I'll go over a few basics about influencer marketing and how it can benefit your business, then provide some tips that will help you take your influencer marketing strategy to the next level.
Influencer Marketing Defined
Historically, brands worked with celebrities when they wanted to expand their reach or generate more interest. For example, a product manufacturer might have an actor appear in their TV commercials or a model in their magazine ads. Jennifer Garner's appearance in Capital One commercials is a prime example.
Influencer marketing in modern times works in a similar way. However, the influencer is present in content marketing campaigns versus advertisements, and the influencer generally has a more authentic relationship with the brand.
For example, Dunkin' Donuts partnered with Charli D'Amelio. The Gen Z content creator danced her way to TikTok stardom and has around 150 million followers. Because she mentioned her love for Dunkin' long before any formal relationship was created, she was a natural pick as an influencer. But, Dunkin' didn't just ask Charli to have a drink or a donut on screen in her videos. She shared her favorite custom drink with her fans, and Dunkin' then launched "The Charli" in stores so fans could order it. Throughout the partnership, they held contests, sold merch, and even launched a second drink.  
On the first day the drink was available, Dunkin' reported a 57 percent increase in app downloads. Within five days of launching "The Charli," Dunkin' sold hundreds of thousands of her signature drink, Rogue Rocket reports. The collaboration was a smashing success and helped Dunkin' stand out against Starbucks with younger demographics.
Who's an Influencer?
An influencer is someone who:
Has a following in a distinct niche

Actively engages with their followers

Has the power to impact purchasing decisions of their followers
Benefits of Influencer Marketing
Overall, influencer marketing can help a brand:
Diversify its content marketing strategy

Increase brand awareness and reach

Build trust and strengthen relationships

Grow a social following

Strengthen SEO

Save money over traditional ads

Influence purchase decisions

Boost sales

Improve return on marketing investment (ROMI)
10 Tips for Developing Your Influencer Marketing Strategy
Whether you're trying to connect with a young audience on TikTok or want to reach more business professionals on Facebook, the formula for creating a winning influencer marketing strategy is the same.
1. Determine Your Goals
Businesses can benefit from influencer marketing in many different ways. The right approach is dependent on your ultimate goal. For example, the partnership between Charli and Dunkin' was established to increase brand awareness and drive sales. The company could have potentially skipped offering "The Charli" to reduce expenses or as a test campaign. It still would have raised brand awareness, but it might not have seen the same level of sales.
Before you begin, consider whether you want to increase brand awareness, drive sales, or both. Clearly defining your goals will help you choose the right influencers and measure the success of your campaign.
2. Identify Your Target Audience
Influencer marketing allows brands to hyper-target niche audiences. Spend time getting to know the audience you want to reach. Identify their interests and what types of content they engage with. This will help you choose influencers who will resonate with them.
For example, Stride Gum tapped in hip-hop artist and producer DJ Khaled for its "Mad Intense" campaign on Snapchat. It was a perfect choice for the brand because it was trying to spread awareness among teens and young adults.
Google had a similar goal. The company wanted to reach a younger audience and introduce them to its Password Manager. A platform like Snapchat and a bold personality like DJ Khaled wouldn't have been a good match. Instead, the brand opted for Zach King, a YouTube star made famous for performing illusions in video shorts. King stayed true to his nature. He filmed a five-minute behind-the-scenes video featuring numerous illusions to engage his audience, including one briefly showing him using Password Manager to unlock a physical door in his studio. It was a hit and gained more than 32 million views.
3. Research Potential Influencers
Once you know your goals and who you're trying to reach, you can start researching potential influencers. One way to do this is to simply behave like your audience. Start looking for content they consume and learn what you can about the people behind it. You can also use a dedicated influencer marketing platform that allows you to search specifically for influencers and filter your results based on fan demographics. If someone appeals to you, watch more of their content to ensure they match your brand values and message.
4. Consider the Reach and Engagement of Potential Influencers
Influencers are typically categorized by reach and will fall into one of the following groups:
Nano-influencers: 1,000-10,000 followers

Micro-influencers: 10,000-50,000 followers

Mid-tier influencers: 50,000-500,000 followers

Macro-influencers: 500,000-1,000,000 followers

Mega-influencers: 1,000,000+ followers
Check out the follower count of each influencer you're considering. You don't necessarily need to find a mega-influencer like Charli D'Amelio, with 150 million followers. A micro-influencer with a small, yet dedicated following can be a good fit for a brand that's just getting started with influencer marketing too. Depending on the niche, a nano-influencer can be an excellent choice too. Sometimes even big brands with large budgets opt for micro-influencers and pair them together or run multiple campaigns in tandem.
It's also important to consider the influencer's engagement level with their audience. An influencer with a highly engaged audience is going to deliver better results than one that doesn't see much interaction.
Look for influencers who have a high percentage of likes, comments, and shares on their content to ensure potential partners have the ability to help you reach your goals.
Sometimes brands have concerns about influencer fraud or fake influencers as well. These people present themselves as influencers with large followings but are not genuine followers. They may be dummy accounts used to inflate numbers or bots.
Paid influencer platforms are often used to help weed these out, but if you're searching on your own organically, browse the comments section.  A genuine influencer will have a thriving community of people engaging. The comments will say things specific to the video, and followers will often engage in side discussions.
5. Determine Your Budget
It's estimated that influencer Charli D'Amelio has a net worth of more than $20 million per Celebrity Net Worth. That's because the Gen Z creator locks in $100,000 per sponsored post.  Influencer marketing can be expensive, but it generally comes down to how many followers the person has and how engaged those followers are. You may also need to set aside more if there are special factors, such as an exclusivity agreement and photo shoots involved.
Let's say you decide to work with a micro-influencer (someone with 10,000–50,000 followers). Based on the channel, Influencer Marketing Hub says you should expect to pay:
$20-$100 per post on Twitter

$25-$125 per post on TikTok

$100-$500 per post on Instagram

$200-$1,000 per video on YouTube

$250-$1,250 per post on Facebook
Keep these figures in mind as you work out your budget. While you're exploring your options, these figures can also help you narrow down your list of potential influencers based on affordability and help you shortlist influencers that will deliver the best return on your investment.
6. Create a Clear Brief
One of the most important factors in running an effective influencer marketing strategy is authenticity. People follow influencers because they appreciate who they are and what they do. If your brand doesn't align with them or you need them to behave differently as part of your partnership, the campaign will likely flop.
Because of this, any influencer you're considering partnering with should fully understand what you're looking for. You can collaborate on ideas, but ultimately, the influencer must create content that aligns with your brands. To help them determine the fit and start generating ideas, provide them with a brief that includes:
Details about your brand and values

Your target audience

Your goals

Channels that will be leveraged
7. Negotiate Terms and Fees
At this stage, you've found an influencer who appears to be a good fit, they've reviewed your preliminary brief, and they're on board with it. You can now start working out the details, including:
Types of content being created

Exact deliverables, timeline, and deadlines

Content review process

Campaign reporting requirements

Budget and payment information

Any special factors, such as usage limitations or exclusivity agreements
8. Review Influencer Content Before it Goes Live
Influencers typically have creative control over what they publish. Again, authenticity is essential to the success of your influencer marketing strategy. However, you should still have a review process and check all the influencer's content before it's published to ensure that it aligns with your brand message and values.
9. Measure and Analyze the Results
Some metrics, such as likes, shares, and comments may only be visible to the influencer. Ensure you have some visibility into this or have the influencer provide you with reports at predetermined intervals.
You can also use a tool like Google Analytics along with UTM codes to track the effectiveness of your campaigns and understand what works and what doesn't. This will help you refine your strategy and improve the performance of future campaigns.
10. Foster Relationships with Influencers
Influencers aren't just paid, endorsers. They're more like brand ambassadors and partners. Foster good relationships with the influencers you work with to ensure their continued support and keep the door open to future collaboration opportunities.
Get Help with Your Influencer Marketing Strategy
The options can be dizzying if you don't have experience running influencer marketing campaigns. Who should you partner with? Is it ok to sacrifice some reach in exchange for a more engaged audience? How do you choose between two seemingly equally qualified influencers? How can you negotiate fair terms in a way that makes you both happy?
These answers will come to you as you gain experience with influencer marketing, but you don't have to go it alone or even manage your own campaigns. As a seasoned digital marketing consultant, I routinely work with influencer marketing. I can help you find the right talent for your brand and create a strategy that delivers the results you need. Contact me for a complimentary consultation.