A customer journey map will help you understand your customer experience, or CX, from the customer's standpoint. When you map the journey thoroughly, you learn exactly when and where your customers connect with your business online and identify ways to make their trip smoother, so they're happier, more loyal, and purchase more.
This sounds simple when spoken about in an abstract way, but between the misinformation you'll find online and the nuances of creating an effective customer journey map, it can become a bit complicated. Below, I'll break it down in simplified terms and outline the steps involved, so you can begin utilizing this powerful strategy right away.
Why Do You Need a Customer Journey Map?
Nearly two-thirds of marketers use customer journey maps to guide their efforts, yet, around 55 percent say they're not confident in their understanding of the customer journey, per data presented by MyCustomer. In other words, even though dedicated marketers may understand the value of customer journey mapping, they're not always certain they're nailing it. That's not surprising considering that the average customer now uses ten channels to communicate with businesses, according to Salesforce data. Without a map, it's hard to tell who's coming and going and from where. In addition, around 80 percent of customers feel their experience with a company is as important as its products. Shoring up your CX helps you meet their needs and expectations better.
You should feel confident about your mapping, and it should be delivering serious results such as:
Improved customer experiences

Increased customer happiness

More conversions and higher sales

Greater loyalty and retention
Mapping can also help your company:
Target new groups of customers

Behave in a more customer-centric way

Become more focused on inbound marketing for improved resource management

Break down silos within your company

Understand your data better
Customer Journey Map vs Buyer Journey vs User Story Mapping
Before I dig into customer journey maps further, I think it's important to differentiate the concept from others you'll read about or may have already appeared in your searches.
Customer Journey Map
A customer journey map follows the customer from their first interaction with your company and after the sale. It provides insights that can help you improve their experience with your company.
For example, a customer journey map might show someone Googling a service you offer, then downloading your whitepaper and subscribing to your mailing list in the process. It may then show them coming back to your blog to read articles, and then eventually clicking on the "request a consultation" button on your website, and ultimately retaining your services after the consultation. However, rather than stopping there, it will also show the customer coming back to your site to read about other services you offer and engaging with your referral program.
Buyer Journey
Sometimes "buyer journey" and "customer journey" are used interchangeably, but a buyer journey technically stops at the point in which your website visitor becomes a customer.
Let's say you run an online ad. Someone clicks the ad, visits your landing page, and signs up for your services immediately. The buyer journey is now complete.
The benefits of using buyer journeys and customer journeys are similar, but buyer journeys are a limited snapshot, and you'll want to use both if you're genuinely focused on creating a great experience and increasing sales at the same time.
User Story Mapping
Conversely, user story mapping is leveraged more by product managers and development teams. These stories begin well before a customer interacts with your brand and follows a standardized outline that includes the type of user, the action they need to complete, and the benefit they receive from completing that action.
For example, let's say you run a financial company and your user is a current client who wants funds. They need to fill out an application and will benefit from fast approval and quick access to the cash. If you're working with user story mapping, you'll probably identify that the person goes straight to your website and then pokes around a bit. As someone leveraging user story mapping, you're going to make sure they can find the application or sign-in button easily, that they can apply quickly, and that they will not only know funds will be disbursed quickly but understand how and the timeline.
There is Some Carryover Between Maps and Journeys
As you can see, there is some carryover between the different maps and journeys even though they have different purposes and benefits. This is one of the many reasons your marketing team should be aligned with other departments throughout the company. You'll benefit from data sharing and your customers will have a smoother experience overall.
Key Elements of Customer Journey Maps
There are lots of ways to create customer journey maps. Some digital marketers prefer a visual representation, while others work in spreadsheets.
The most common type is the current state map, which outlines what's happening with your customers here and now and helps you identify ways to improve their experience based on their flow as it stands today.
You'll also see future state maps in marketing too, which are mostly used when you're planning to release a new product or service and are trying to gauge what the experience will likely be like, so you can address gaps before you go live.
Regardless of your approach, the map should include the following key elements.
The customer's point of view

The scenario

What's happening with the customer throughout, including thoughts and feelings

Any touchpoints or channels involved

Insights gained

Who on your team is responsible for different touchpoints and stops on the journey
How to Create a Customer Journey Map
Now that you have the background and an understanding of what's involved, let's explore how you'll go about how to create a customer journey map.
Step 1: Set Your Goals
Start by identifying your goals for the map and what you want your customers to do.
Step 2: Create Customer/ Buyer Personas
It's generally best to create your customer journey map around one persona, but if there's complete overlap between the journeys different personas take, you can include more than one in yours. If you're not already using buyer personas, read "Customer Personas: What They Are and Why You Need to Define Them" for a full breakdown.
Step 3: Map Out the Customer Journey in Three Main Stages
If you're making the most of analytics, you should be able to follow your customers' path with relative ease. However, if your data is lacking or you're working on future state mapping, you can walk through the journey as if you were the customer. Consider the three primary stages as you're doing this.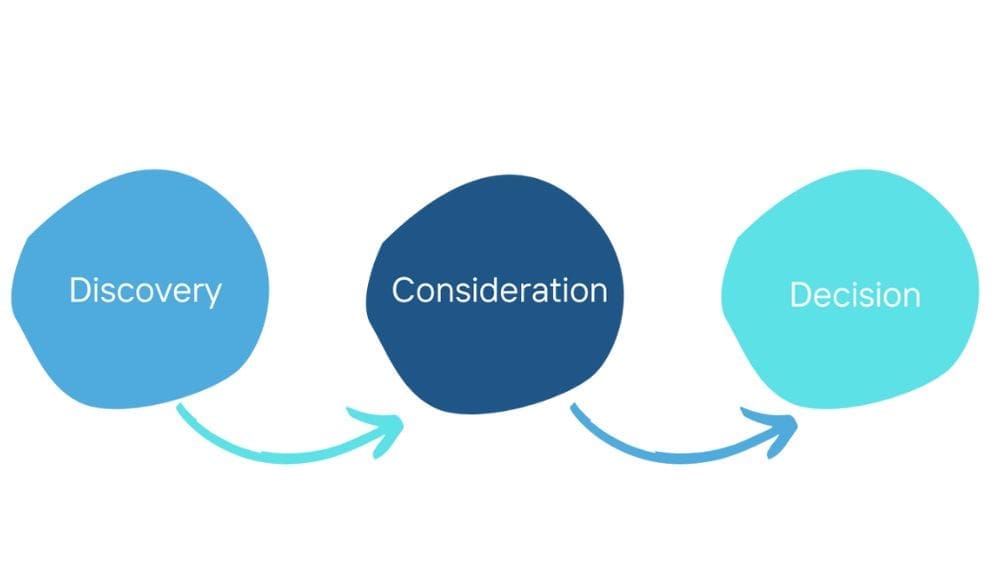 Discovery:

During the discovery stage, the customer is aware that they have a problem and want to solve it. You'll want to consider how the customer views their issue, what challenges they're facing as they solve it, and what might happen if they choose not to solve their problem.

Consideration:

During the consideration stage, the customer is actively looking for ways to solve their problem. You'll want to think about what they might be reading, where they're getting information, and how they're weighing their options.

Decision:

During the decision stage, the customer has decided on a broad solution but is still comparing companies or options within that bracket. You'll want to consider what criteria they're using to determine which option is best and, if other stakeholders are part of the process, where they'll come in.
Step 4: Identify Touchpoints
Touchpoints include things like your website, paid ads, email marketing, social channels, and any other way a customer might engage with your brand. Make a full list of touchpoints your persona may engage with at each stage outlined above.
You'll also want to check your data here to see which touchpoints get more engagement and help customers move to the next step. Any commonly leveraged touchpoint that's lacking should be earmarked for TLC.
Look for opportunities to personalize as well, as 52 percent of customers expect it per Salesforce data. Product recommendations and offers are good places to start.
Step 5: Identify Your Available Resources and Analyze the Journey
Remember that the customer journey is not just about making a sale. Consider the journey you've mapped and any weak areas, then identify resources that may be leveraged to strengthen them. For example, if customers don't return, perhaps you can bring in your customer service team to perform more follow-ups.
Step 6: Monitor and Take Action
As you identify weak spots in your journey, take steps to shore things up. It's ok to create a full list of concerns and perform triage. Sometimes you will find big issues that need to be addressed before moving on to smaller issues.
You'll also want to revisit your customer journey map regularly, and each time there's a major change with your offerings or customers.
Get Help Improving Your Business Results
Customer journey mapping is just one step in successfully marketing your business online. If you need help with this, aren't sure how to get started with digital marketing, or aren't getting the results you need, I'm glad to assist. As a digital marketing consultant with a background in business, I've helped countless organizations bring their marketing initiatives into alignment with business goals and get the results they deserve. Contact me for a complimentary consultation.