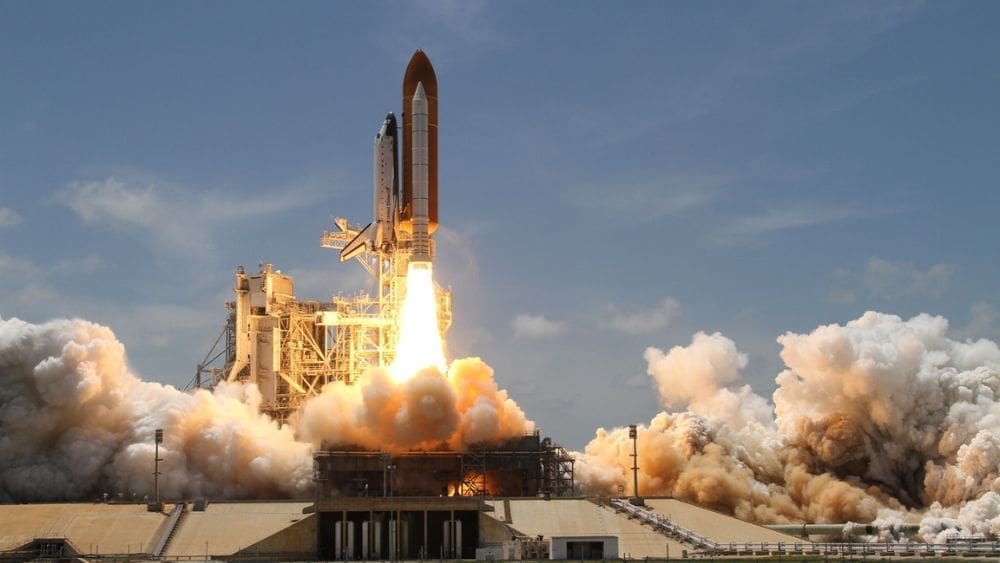 Investing in a quality project management solution is one of the best things you can do for your creative team. It will keep you in sync and boost your success rates by nearly 400 percent per CoSchedule data.
But, there are lots of project planning tools, and not all of them work well for marketing teams. On this page, I'll show you what to look for when choosing one and give a quick overview of some of the best marketing project management tools available today.
Why You Need Marketing Project Management Software
Once you see how marketing project management software transforms your daily operations and success, you'll wonder how you ever functioned without it. It will help you:
Get and stay organized. You'll have a place for everything and know where it is.
Stay on track. You'll know where you and your team are at any given time and can monitor deadlines easier.
See the big picture when planning. You'll be able to spot bumps in the road before you hit them.
Manage resources more effectively. You'll know which team members are at, over, and under capacity at a glance.
Collaborate easier. Many offer real-time synching of docs and communication tools, so your team works as a cohesive unit without constant email barrages.
Manage file-sharing better. You can do away with messy DropBox, Google Drive, and OneDrive setups. All files can be kept with their tasks and projects.
Streamline your workflow. Many programs include time-tracking tools, project management, project communication, file sharing, and finance tools, so you can work in one place and often save money by dropping extra tools. Automation is huge in this respect too.
What to Look for in Your Marketing Project Management Tools
Your marketing team doesn't work exactly like the team down the street or even like other teams in your company. It's normal to have some variation, and you should be doing what works best for you. However, to meet the diverse needs of different teams, each platform approaches project management a bit differently and will offer unique tools. A few features to look for include:
Project overviews. Team members should have some degree of transparency to see how the work they're doing impacts the bigger picture.
Collaboration tools. Downloading documents and working locally is chaotic for teams. You never know if you've got the most current version or if you're undoing someone else's work. Many tools offer document collaboration and in-task or in-project messaging, so it's easy to find information.
Real-time updates. You should see changes on documents, notifications, and message boards right away to maximize efficiency.
Status tracking. Customizable statuses and the ability to filter by status make it easy to see what people are working on and how close tasks are to being done. 
Review and approval process. Sometimes you can get around having approval tools by using status tracking and team collaboration tools. Still, the process is much more streamlined when stakeholders can provide digital approval rather than writing notes back and forth.
Customizable workflows. You'll save time and money with customizable workflows, such as automated notifications, reporting, and task generation.
Customizable views. Everybody works best in a different way. Moreover, how you work best may differ based on the task at hand. Watch for software that offers Gantt charts, timelines, or calendars to give you an overview, as well as Kanban card-style layouts and lists to zero in on specific projects and tasks.
Reporting. Robust time tracking and project-based analytics will help you manage resources better and catch bottlenecks.
Integrations and scalability. Choose software that plays nice with other platforms and tools. You may not need them right away, but you're likely to find that as you begin to work more fluidly with your new marketing project management platform, you'll find lots of different ways you can use it to automate and streamline your processes.
12 Most Popular Marketing Project Management Tools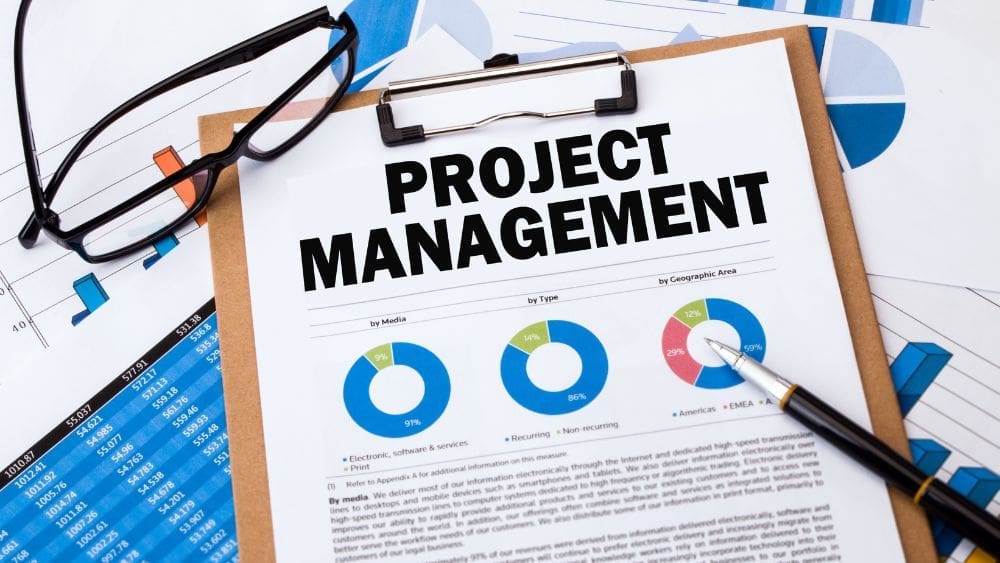 Because each team and person on a team might use the same PM software differently, there's no singular best one. Instead, you'll want to take a look at the distinct features offered and compare them to see which ones align with your processes and needs.
1. Asana
Asana is an excellent project management software tool that often makes it to marketers shortlists. It's one of the few that truly understands that people work differently and offers a multitude of ways to view information and manage work. Whereas virtually all tools offer task management and project management, Asana sets itself apart by providing a level up from this—portfolios. You might use their portfolio management tools if you're coordinating work across several departments within your company, such as product development, sales, and marketing or if you want to divide the work of different specialties, such as video creation, web development/ design, pay-per-click, SEO, social media marketing, and written content. You might use it if you're responsible for overseeing multiple locations or teams too.
That said, it isn't as strong as some of the others in a few areas. It doesn't have a native document editor for streamlined collaboration or the ability to track time, and the reporting tools are a bit lighter than others.
2. Basecamp
Basecamp is another tool that makes a lot of shortlists. While it offers much in the way of project management, Basecamp sets itself apart in collaboration. For example, it has a messaging app called Campfire, and managers can automate recurring questions for their team. There's also a client view function that makes it easy to share specific details with external stakeholders. That can be especially helpful if you have brand partners, reciprocal referral programs, or you co-market with other companies—perhaps you invite related brands to participate in your webinars, and you want their approval on marketing assets before they go live.
It's also one of the simplest programs, but that comes at a price. It's missing a lot of the bells and whistles others have, and there's little you can do to tailor the software to your needs.
3. Brightpod
Specifically designed for marketing teams, Brightpod is likely to show up in your searches too. It's user-friendly and offers key functions like tasks, milestones, and workflows. Work is split into pods, and each pod will have its own manager.
However, it is geared more toward marketing agencies. Much of its focus goes to things like time tracking for proper billing of different clients rather than project management features like hierarchical tasks.
Clarizen is a solid platform that offers a lot of high-level information for an agile project manager. The Exec Dashboard has all sorts of measurements, including cost data, open tickets, a visual product roadmap, project performance, and more.
For that reason, Clarizen is a good enterprise-level solution, but it's not quite as intuitive or user-friendly as some of the others designed for collaboration. It also doesn't offer much in the way of marketing-specific tools and lacks native integrations.
5. Filestage
If you have an intensive approval process for marketing materials or you routinely have key stakeholders review content before it's released, Filestage may be the tool you're looking for. It allows you to upload documents and images as well as audio and video files and allows reviewers to annotate the file in a number of ways, so it's easy to see what changes are being requested.
It's excellent in this respect, but you may want to look at other tools if you're looking for software that is more geared toward helping you keep track of your endless task list.
6. Mavenlink
Another one you're likely to come across is Mavenlink. The platform refers to itself as a project and resource management tool for businesses in the professional services industry, including marketing teams.
With that in mind, it's designed to give a broader perspective on project management and includes things like budgeting features and the ability to share with people outside the team. It lacks some task-specific features that help manage things better at a granular level, but it integrates with other tools like SalesForce and Google Workspace to fill in some of the gaps.
7. ProofHub
If you're looking for a marketing project management platform that functions more like a virtual office, ProofHub should make your shortlist. The platform lets you visualize your workload in many different ways (table/ task list, Kanban, Gantt, calendar view), plus it allows you to store documents and proof them. There's also chat and announcements, plus the ability to create your own dashboard with a "me-view." Project leaders have solid control over who sees what, plus time tracking, reporting, integration, and more.
The drawback to ProofHub is that billing for this tool is a bit different than others. While most will charge by the user or tier, ProofHub charges by the feature. That means you can get just about anything you want from them and not pay for features you'll never use, but it can also make estimating your costs a bit more challenging, especially if you've never used a project management tool and aren't sure which features your team will actually need and use.
8. Teamwork Projects
Another solid end-to-end system is Teamwork Projects. It helps you nail the granular details with task management while layering in things like time tracking, resource management, and reporting. It also has portfolio management, which can be beneficial if you're trying to segment marketing based on specialty or asset type.
It's important to note that Teamwork Projects is part of the Teamwork suite. While you can use it alone, you may find that you need to purchase other Teamwork products to get the functionality others provide in their core product, such as chat and content collaboration. However, it also has a CRM and helpdesk platform designed to integrate seamlessly, so it may be a good bet if you plan to grow and don't want to piecemeal products.
9. Trello
Founded in 2011, Trello is one of the more established platforms on this list. Although the company didn't create Kanban boards, it certainly popularized them. Naturally, that's where the product genuinely shines. Everything you need for a task or project "lives" inside cards. You can assign cards, create lists within cards, attach files, discuss the task or project on the card, and more.
However, Trello stops short of being a comprehensive platform. You can get around things like lack of an approval process by creating lists for each stage of approval or lack of integrated document collaboration by tapping into Google Workspace integration and Google Docs. However, it may not be the solution for you if you're not in love with Kanban or need more reporting tools.
10. Workamajig
If you like the idea of an all-in-one system, Workamajig might be for you. It includes project management as well as CRM and finance. Although perhaps designed more for agency use, Workamajig's efficiency and reporting tools can help marketing departments maximize their budgets, create streamlined workflows, and improve ROI. Dashboards are customizable by role, and it has robust task management features like proofing and approval.
The company released an updated version a couple of years back that was not received well by users and was arguably buggy. Although the bugs have since largely been squashed, the updated version still has a bit of a learning curve and might not be ideal for those who have not used a project management system before.
11. Workfront
Originally launched in 2001 under the name AtTask, Workfront is one of the best enterprise project management solutions for marketers. It hits on things others miss, like prioritization, and offers intuitive project dashboards that make it easy to see all project-related data at a glance, down to individual tasks, employees assigned to them, dates, and project progress. It also integrates with lots of other programs, including Salesforce, Slack, and Google Workspace.
Although Workfront is generally rated well, making tasks and managing projects can sometimes be cumbersome. And, although the software allows you to hold discussions and share documents within tasks, it's not always easy to find the content you're looking for. With that in mind, it may not be ideal for companies that use their project management tool for most of their collaboration and sharing.
12. Wrike
Full disclosure, Wrike is one of my personal favorites. It's the one I usually choose when companies retain me as a digital marketing consultant. It's quite intuitive once it's set up, and teams tend to adapt to it rapidly. Plus, you have a high degree of control over who sees what, which is beneficial if you're blending an in-house team with outsourced talent. 
As a collaboration tool, Wrike has options like communication within tasks, document sharing, approval processes, and a native editor for tracking change requests and versions. The platform also has more than 400 integrations to software like Salesforce. Marketo, and Google Workspace, so it's easier to keep everything integrated and together.
If there's a major fault with the platform, it's that it can be difficult to get set up. Creating your workflows and templates in a way that makes sense, streamlines your work, and provides for easy tracking isn't always straightforward if you haven't done it before.
Need Expert Help Finding the Right Project Management Software?
If a platform doesn't fit your needs or isn't intuitive, it can actually create more chaos because your marketing team will become fragmented. So, although I personally appreciate Wrike, I don't recommend it universally. Instead, I think it's important to select the best fit for you and your team. If you've read through this and still aren't sure what the best way forward is, let me know, and we'll discuss it in your complimentary consultation.