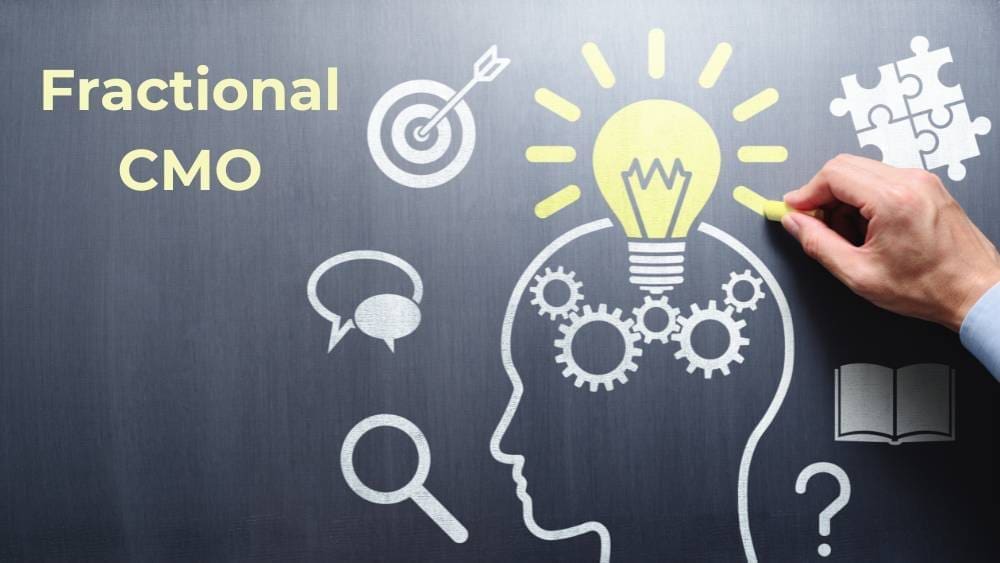 Ready to take your digital marketing strategy to the next level, but not sure if hiring a full-time chief marketing officer (CMO) is the right next step? A fractional CMO may be just what you need to align your marketing efforts and business goals without stretching your marketing budget too far.
What is a Fractional CMO and What Do They Actually Do?
A fractional CMO does a CMO's job for your company but only works a fraction of the time a traditional CMO does and only receives a fraction of the pay. This part-time CMO provides strategic marketing guidance on a part-time basis, allowing your company the opportunity to level up with a lower investment. They are essentially an experienced marketing professional hired on a short-term basis. Let's dig into the roles a bit, so it's easier to visualize how CMO or a fractional CMO might help you achieve your business goals.
What Does a CMO Do?
A chief marketing officer, usually referred to as a CMO, a CMO, serves as a business's overall head of marketing activities, which includes planning, developing, and executing all advertising and marketing campaigns.  A CMO is also a visionary; someone who brings in new ideas and technology to drive company growth. They maximize the value of your company's resources, strengthen collaboration between departments (including your sales team), and ensure your content marketing and overall marketing process aligns with your current marketing strategy and target audience's needs.
It's a big role that can profoundly impact a business, which is why the average base salary for a CMO presently sits at over $175,000 per year, according to PayScale. Some base salaries approach $300,000 annually. While a great CMO absolutely brings comparable value to a company, most businesses can't bring on a CMO until they've reached a particular stage of growth in which they have the cash to invest in the role.
This presents a catch-22 situation. You can't reach that level without investing, and you can't make that investment until you grow. This is where a fractional CMO comes in.
What Does a Fractional CMO Do?
A fractional CMO, sometimes referred to as an fCMO, does all the things your CMO might do but only works part-time and is often hired as a contractor with a pre-determined term rather than a traditional employee. For example, an fCMO may be able to provide strategic marketing guidance and design a comprehensive marketing plan in as little as ten hours per week, giving your in-house team the direction it needs to accomplish key marketing objectives.
Contract terms vary depending on a business's marketing goals. Some fCMOs will start with a six-month contract, though most will fall in the range of 12-24 months to start. This is because the business strategy and technical setup can take a couple of months to begin with. Following this, it takes about six months to see results from certain initiatives, like SEO and social media marketing.
How Does Hiring a Fractional CMO Compare to Other Marketing Options?
There are many different models marketing teams use. I'll break down the differences across some of the most common options below.
fCMO vs. Full-time Marketing Executive
Companies in the early stages of growth often have just a strategist or marketing expert in place. More often than not, this person knows the business and its customers well. They're also generally quite adept at carrying out specific campaign types. For example, your digital marketing manager may be a social media powerhouse. However, they likely lack in areas like strategy, budgeting, and bringing teams from different departments together.
An fCMO would not replace this person. Instead, they'd help ensure their work aligned with business objectives and other marketing initiatives, so the results of your overall marketing efforts can be improved. The fCMO would also ensure the marketing department had the right technology and resources while cutting out wasteful spending.
fCMO vs. Internal Full-Time CMO
Because an fCMO performs the same duties a CMO does, there's little or no difference in the outcome. However, businesses spend on salary when working with a CMO.
fCMO vs. Marketing Agency
Many businesses work with marketing agencies or digital marketing agencies as they're scaling. Working with a digital marketing agency can be problematic to begin with. The agency is removed from the business, which makes it hard for the professionals carrying out the work to carry the brand philosophies and voice throughout the content. Plus, work is often subcontracted out, and businesses wind up with multiple layers between them and those performing marketing functions.
These issues are amplified when businesses turn to their agency for fCMO services. Perhaps what's more concerning is that an fCMO is responsible for managing vendors and ensuring they're performing well. Therefore, it's impossible for your fCMO to be unbiased if they're part of your agency.
fCMO vs. Consultant
Your experience with a consultant will vary depending on how the consultant works. Some consultants work as agencies do. They're removed from your company, which makes it difficult for them to keep a pulse on what's really happening and address your marketing strategy as an insider will. However, there are consultants like me who become part of the team. I work with key stakeholders throughout a company and ensure the right mix of in-house and outsourced talent is leveraged to ensure the business receives the best possible results.
How Much Does Hiring a Fractional CMO Cost?
On the journey to business success, having an expert marketing leader on your side is non-negotiable. They hold the keys to putting your products and services on the map, weaving an effective marketing strategy that drives your brand forward. Yet, the financial commitment required to bring a full-time CMO on board can pose a formidable barrier, especially for companies just finding their feet. The sticker shock from the hefty salaries demanded by these experienced marketing professionals is often enough to make potential employers think twice.
A fractional CMO, an experienced marketing professional who provides strategic marketing guidance on a part-time basis, bills their expertise by the hour. This flexible approach is designed to lighten the financial load while delivering the high-caliber marketing insight you need. While the precise hourly rate of a fractional CMO can vary depending on factors like the specific agency and geographic location, this model remains an attractive proposition for businesses striving to balance the need for top-level marketing prowess with budgetary constraints.
Working with a fractional chief marketing officer typically costs between $200 and $400 per hour. If you want to work with an experienced professional who knows your industry, expect to land on the higher end. That may sound like a lot, but when you consider that the average salary for a full-time CMO with this background would be around $300,000 annually, and that's before you add in things like bonuses and benefits, you're easily saving six figures by opting for an fCMO.
What Are Some Benefits of Hiring a Fractional CMO?
Hiring a fractional CMO offers many benefits, one of which is that it can be more cost-effective than hiring a full-time CMO. They can also provide fresh, expert knowledge, and impactful marketing strategies that can accelerate company growth and help in achieving business goals.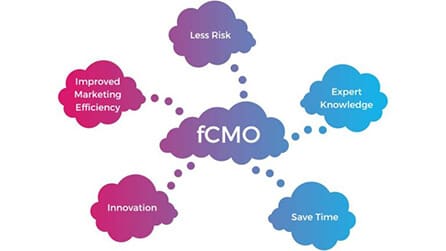 Less Risk:

Hiring an in-house CMO is a big commitment. An fCMO will be working on multiple projects, so you can gauge their abilities in advance and aren't committing to permanent placement. If your fCMO isn't a good fit, you can usually end the contract.

Improved Marketing Efficiency:

fCMOs are focused on your bottom line. They cut out inefficient processes while bringing in the right tech and people to improve your efficiency.

Innovation:

Fresh eyes will likely spot new approaches to improve your marketing results.

Expert Knowledge:

An fCMO may be the only way your business can afford to bring in a true expert, which means you'll get better results and improved ROI.

Save Time:

Because an fCMO has the experience, you can skip the learning curve and jump straight to strategies that really work.
What Types of Businesses Benefit Most from the Fractional CMO Model?
The fractional CMO model is leveraged across all industries. The company's expansion goals and growth rate tend to matter more than its current size and will impact the approach.
Fractional CMO for Startups
The fractional CMO method works well for startups because it allows the business to ensure its marketing strategies and processes are set up correctly from the very beginning. This eliminates the learning curve and reduces the ramp-up time to accelerate results.
Fractional CMO for Established Companies
Experienced fractional CMOs are also adept at weeding out inefficient and ineffective strategies. Because of this, they can help established companies reach new heights and overcome barriers that have held them back in the past.
Signs Your Business Needs a Fractional CMO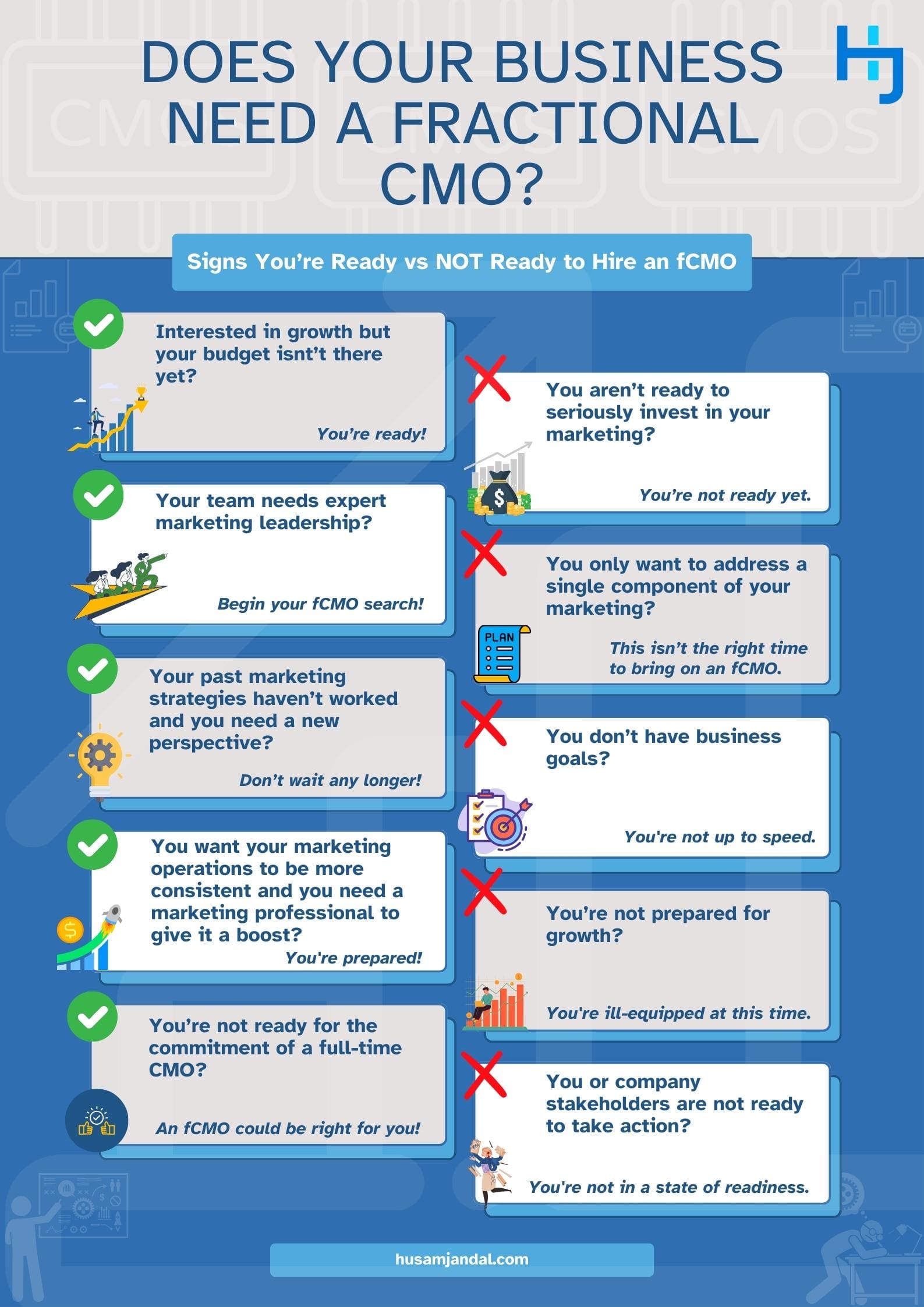 Now that you know what an fCMO does and how one can help your business, how can you tell it's time to start looking for one? If any of the following signs apply to your business, it's time.
You Want to Grow, But Your Budget isn't There Yet
If you're caught in the catch-22 of needing a CMO to grow but can't afford one yet, an fCMO is the ideal choice.
Your Team Needs Expert Marketing Leadership
You may have a fantastic in-house marketing team, but if they don't have the right leader, or their leader can't connect their work with other departments, you need someone who can.
Your Past Marketing Strategies Haven't Worked
You should expect your marketing team to fail at least some of the time. If they never fail, they're never trying new things and that means you'll never get ahead. However, if your current marketing strategy is not yielding the desired results or your marketing efforts need an experienced marketing professional's touch, then it's time to bring in an expert fCMO.
You Feel Your Business Needs a New Perspective
Again, your marketing team must constantly be innovating to drive results. If your strategies and campaigns are starting to feel stale, it's time for a fresh perspective. An fCMO can give you one.
You Want to Make Your Marketing Operations More Consistent Across All Channels
Fractional CMOs understand how everything from your website to your social media and SEO works together to produce results. They also know how to craft campaigns and implement specific marketing tactics in a way that you get maximum mileage from each asset produced. If you feel like each channel in your marketing arsenal is doing something different, it's time to bring everything into alignment with an fCMO.
You're Not Ready for the Commitment of a Full-Time CMO
Opening an in-house CMO role adds to your business overhead with salary, bonuses, and benefits. Adding the role also means you may need to restructure your company before you hire and must plan for a long-term engagement. If you're not ready for this, the next logical step is an fCMO.
You Need a Marketing Professional to Boost Your Business Growth
An fCMO will have the skills necessary to level up your marketing to create measurable growth for your business. They'll know which approaches work for any goal, be it increased retention, growing your customer base, strengthening your company with the intent to sell, or any other reason.
Signs Your Business is NOT Ready for a Fractional CMO
Despite the benefits, there are times when hiring a fractional CMO is not in your best interests or would likely create additional problems. If any of the situations below apply to your company, it's probably better to wait.
You Aren't Ready to Seriously Invest in Your Marketing
A typical company will spend just shy of 14 percent of its revenue on marketing, according to HubSpot. However, the figure varies by industry. For example, finance companies spend around eight percent and healthcare companies spend around 21 percent. If you aren't ready to come in at the higher end or exceed it, your fMCO won't have enough resources to work with.
With that said, there's obviously a difference between a company that's bringing in $100,000 per month, in which the "average" budget is $14,000, and a company bringing in $1,000,000 that has a $140,000 monthly budget. 
Consider that a single initiative, such as building a website, can easily cost $9,000 per Forbes research. A typical small business also spends between $9,000 and $10,000 per month on pay-per-click (PPC) advertising, TechJury reports. It doesn't even take into account that the salaries of a full-time digital marketing manager and copywriter could also consume a full budget on their own.
Although effective marketing typically puts at least double your investment back in your pocket, you must be prepared for the initial cash outlay of the initiatives, team, and fCMO. That usually means your annual revenue should be around five million dollars and your monthly marketing budget will be closing in on $66,000 before you're ready to bring in a strategic marketing leader. If you aren't prepared for this, it's better to grow your business through digital marketing outsourcing or other methods before you invest in an fCMO.
You Only Want to Address a Single Component of Your Marketing
Business owners often recognize that a specific area of their marketing is underperforming or that they need to implement an additional strategy and begin the search with shoring up this area in mind. For instance, you may want to rank higher in Google or launch PPC ads. While a fractional CMO can address these things, hiring one would be overkill. An fCMO is all about the strategy. Their skills are better put to use evaluating your marketing as a whole, identifying the best marketing channels, and kicking off marketing initiatives in a sequence that allows ROI to build and each initiative to build off the prior ones.
If you really only want to implement or improve one area of your marketing, it makes more financial sense to hire or outsource it to a specialist in that field. 
You Don't Have Business Goals
All marketing initiatives must tie back to specific business goals. Maybe your goal is to double leads in one year, hit the billion-dollar benchmark in five years, or position your business in a way that you can sell it in seven years and retire early. Each business has unique goals. If you don't know where you want your business to go, you're not ready to hire someone to take you there. 
If a lack of clear goals is holding you back, spend some time reflecting on them and reach out to fCMOs when you've got them down.
You're Not Prepared for Growth
Most business owners dream of rapid growth, but seeing those dreams realized is a different thing entirely. A business that's unprepared for growth can crumble under the weight of it. While you don't necessarily need to have all resources in place to address the next stage of growth, you should know how you'll handle it. A few things to consider include:
How your internal processes will scale

How and when you'll bring in additional talent

How you'll procure and store additional supplies

How you'll secure additional capital to cope with increased demand or unexpected issues
You or Company Stakeholders Are Not Ready to Take Action
A certain degree of concern over new initiatives or pushback is normal. Some people will want to understand how the investment is being spent, why new processes are better, and what to expect along the way. However, if key decision-makers are resistant to change for any reason, it will create barriers for your fCMO and decrease their effectiveness. Moreover, your team will be looking to leadership to decide how to respond to the changes. If company leaders are not onboard, you will not get the results you want and company morale will falter. 
Sometimes a person's concerns can be put to rest by providing more information or by privately soliciting more feedback from them. However, if someone important on your team will become a roadblock to your progress, it's better to wait.
How to Find a Fractional Chief Marketing Officer
Ready to look for a part-time CMO who can provide strategic insights into your market strategy, content marketing, and branding efforts? Here's where to start.

Your Network:

You may already be connected with someone in your network who can provide fractional CMO services.

Referrals:

If you know someone who has great marketing, ask them who handles it and if they offer fCMO services, or just put out a general request to your network and ask for recommendations.

LinkedIn:

Check your connections or run a search for marketing consultants and fCMOs. You may find someone connected to you or who already has endorsements from people you know.

Trade Groups:

Sometimes specialty marketers link up with industry trade groups. Although it's not quite as good as a referral or endorsement, it's at least a sign that the professional has some experience with your industry.

Fractional CMO Companies: A fractional marketing agency or fractional CMO agency can help you find a qualified candidate. However, if you go this route, ensure you'll be able to build a long-term relationship with a single fCMO or that you can hire a fractional CMO directly so that your brand gets the focus and attention it deserves.
Meet Husam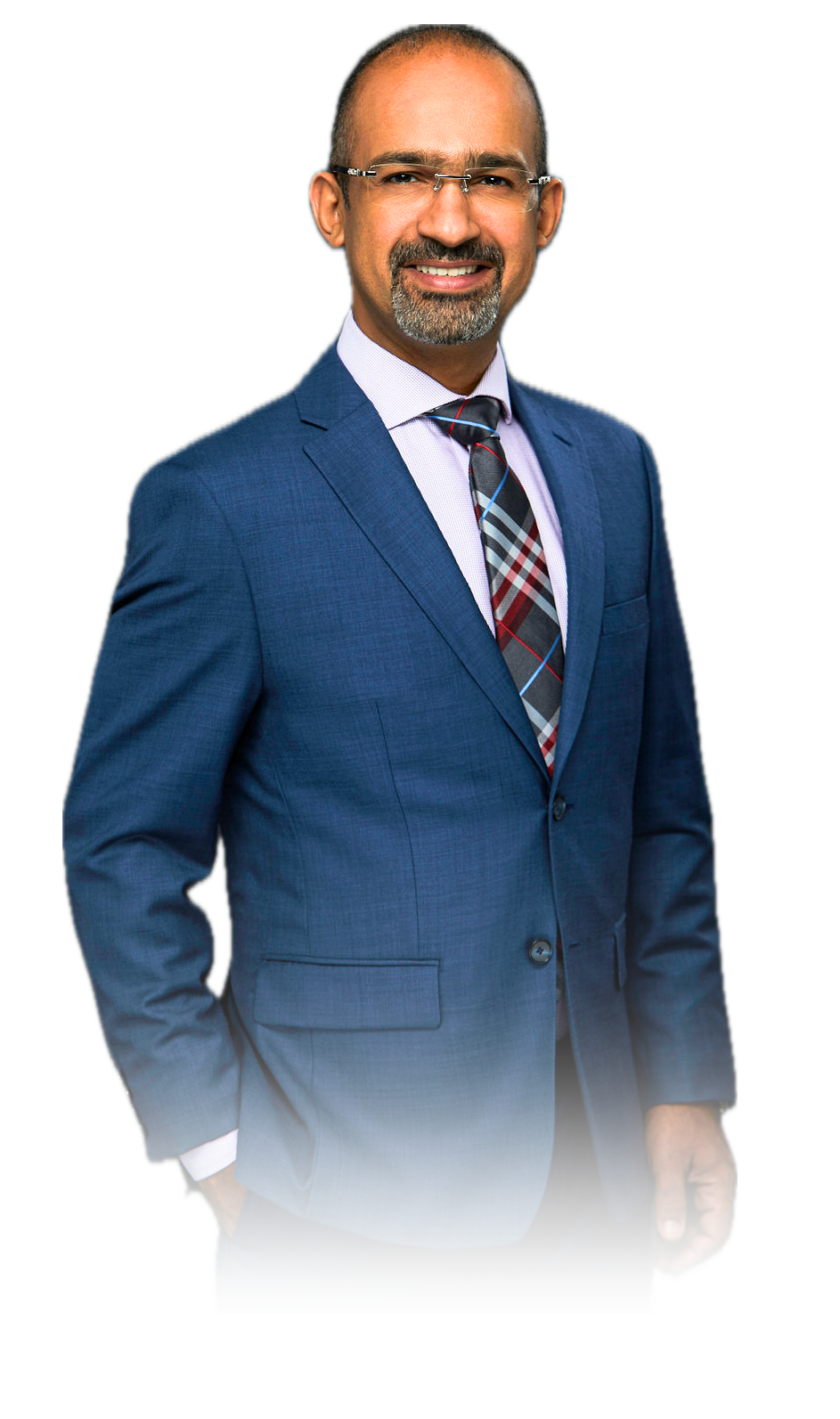 Hi! I'm Husam Jandal. I diagnose companies from the ground up and develop tailored solutions that prime their operations, sales, and marketing for success. I refer to myself as a digital marketing consultant, though I operate much like an fCMO.
I've helped Fortune 100 companies scale, educated Google Partners, and written several books on digital marketing but I enjoy working with small and midsize businesses and helping them grow the most. If you're looking for an fCMO, let's schedule some time to talk about your business and goals.
Tips to Get the Most Out of Your Fractional CMO Relationship
Hiring a fractional CMO is an investment. Following a few best practices will help you maximize your return.
Partner with an Experienced Fractional CMO
We can see in Google Trends data that the concept of a fractional CMO is nothing new. However, interest recently peaked.
The recent spike correlates with the release of a book that teaches marketing professionals and CMOs the fCMO model or how to establish themselves as fCMOs. While there's nothing wrong with this approach, it does mean that the market now has an abundance of people who label themselves as fCMOs but don't necessarily have the skills required. When you choose your fractional CMO, look for:
Total years of marketing experience

Total years of fCMO experience

Proven methodology and a successful track record

Experience overseeing marketing strategy for several companies at once

Experience across multiple industries

A background in serving businesses like yours
Establish Fractional CMO Deliverables Together
A good fCMO is more like a partner. If you've vetted them well, you should be able to trust that they're bringing their successful processes with them to your company. A strong fCMO will evaluate your company's current status and put together a timeline on their own. However, they'll need you to provide high-level goals for the company and insights throughout the planning process.
Give Your Fractional CMO Time to Work
Your fractional CMO should provide you with a realistic timeline and clear expectations of what you will achieve at each stage. However, it does take time to see results. Early initiatives will likely be related to laying the foundations for successful marketing rather than kicking off initiatives. Following this, it will take months for certain initiatives, such as SEO and social media marketing, to produce results. The results can be dramatic, but they won't happen overnight if you're working with an experienced professional who is working with your company's best interests in mind.
Stay in the Loop
Experienced fCMOs understand the importance of regular reporting and accountability. They also view you as a valuable resource and are excited to share successes. Because of this, they're likely to set up communication channels and regular meetings without you having to request anything. Make yourself available as needed in these situations and read through reports as they come in so that you have a pulse on what's happening.
Learn More About Fractional CMO Services
Although I refer to myself as a digital marketing consultant, I address many of the same areas a CMO or fCMO does, using my extensive experience to provide strategic marketing guidance. I work with stakeholders to build high-performance marketing teams and implement strategies that get results. This is all done from within the company. My goal is to help you reach your marketing objectives and ultimately set your team up so that it can be successful without me. Although I have decades of experience helping Fortune 100 companies scale, I prefer working with small to medium-sized businesses that are as passionate about growth as I am.
If you're on the fence about whether a CMO, fCMO, or another professional is best, let's chat about where your business is now and where you want to go. Contact me for a complimentary consultation.