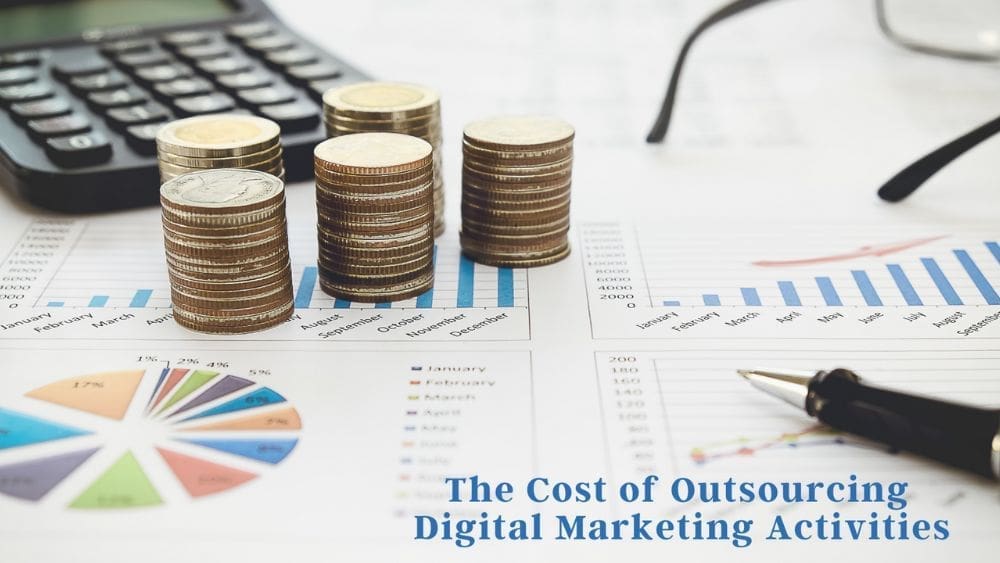 Some of the most common questions I hear relate to the cost of outsourcing digital marketing activities. You probably have a similar query that brought you here. It's an understandable concern and as an experienced digital marketing consultant, I can certainly provide some insight.
Before I start breaking things down, though, let me ask you this: How much does it cost to build a house? You probably have lots of questions for me now. How big is the house? What types of materials? How will the space be used, and what amenities does it need to have? A modest tiny house can now be built for a few thousand dollars, but a luxurious mansion will set someone back millions. 
This is the case with calculating the cost of outsourcing digital marketing, too. You can hire and manage a freelancer on a per-project basis and perhaps pay less than $100 for that single project, or you can spend millions on the strategy and management of all your digital marketing activities. Neither of these extremes is likely right for your business—especially if you operate a small business.
The question, then, isn't "How much does outsourcing digital marketing cost?" Instead, it should be something more along the lines of, "What's the right digital marketing investment based on my business's current status and goals?" But, of course, the answer will be different for everyone reading this.
With that in mind, I'll break down some of the most common digital marketing outsourcing costs and provide a basic framework for calculating the right investment for your business.
The Cost of Outsourcing Digital Marketing vs. Managing it In-House
Outsourcing is often a popular choice because it's cheaper. For example, wage and salary costs account for around 71 percent of a typical employee's compensation, according to the Bureau of Labor Statistics (BLS). The remaining 29 percent of compensation is put toward employee benefits. Consequently, maintaining in-house marketing teams can become a significant expenditure, particularly for smaller businesses. When you outsource to an agency or freelancer, the latter is an expense your business does not have to shoulder, so you see immediate savings of nearly 30 percent there. When talent is carefully sourced, businesses will see gains from improved efficiency and improved ROI, too.
The Cost of Outsourcing Digital Marketing Activities
Digital marketing is a broad term that can relate to a variety of activities such as:
Some components require greater in-depth knowledge and take more time than others. A solid digital marketing strategy will generally touch on all these areas and more, but if you're a small business owner trying to manage it on your own, you might only start with one or two areas. Let's take a look at some of the costs here.
Development: $1,000 to $300,000+ One Time Plus Upkeep
Development relates to creating a website or application for your business. If you want a very basic template-built website, you might be able to find someone who will do it for around $1,000. The site may feature your logo and brand colors, but it won't likely be tailored to your visitors or optimized for search engines. It also won't likely integrate with your CRM or have special features like product guides and listings. As spend increases, you transition from having a nice-looking website to a website that attracts and converts leads and automates processes to save you money over time.
Search Engine Optimization: $1,000 to $30,000 per Month
SEO involves a lot of tasks and skills ranging from keyword research to technical on-site optimization, linking strategies, content marketing, and analytics. While it's possible to find someone who will carry out specific SEO tasks at an hourly rate, most SEO agencies require a monthly retainer in the neighborhood of $1,000 to $2,000 to start. Expect to pay more if you're in a saturated niche with heavy competition.
Pay-Per-Click Ad Management: $1,000 to $8,000+ Per Month
Calculating the cost of pay-per-click ads is a bit trickier because there are many different pricing structures and costs involved. Agencies won't typically take on projects unless the raw monthly ad spend is at least a few thousand dollars, with some requiring a minimum spend of $10,000 or more. The cost to manage it is a separate charge and usually managed as a monthly retainer either at a flat rate or a percentage of your ad spend. Something in the realm of ten to 15 percent is normal. That means if you're spending $10,000 on ads monthly, the management will be an additional $1,000 to $1,500. However, some larger PPC agencies are compensated by the advertising platforms (such as Google Ads or Bing Ads), which saves you the cost of paying a separate management fee.
A good PPC manager will work hard, always monitoring the results and testing different keywords, ad copy, and landing pages. As a result, your ROI will get better over time. The challenge is that many use a "set it and forget it" mentality.
Video Production: $2,000 to $20,000+ per Video
Video is another area with massive variances. Let's say you want a basic one or two-minute animated explainer that requires a script, uses stock animation, and has a professional voice actor. The starting point to outsource video production will be in the neighborhood of around $2,000. The price will increase if you want custom characters, specialized animation,  longer videos, etc
Sometimes, businesses want actual footage of their employees, locations, and customers. It's more intensive because there's a camera crew, setup, more editing, and other expenses involved. Expect a project like this to start at around $7,000, with $10,000 to $15,000 being a more likely sweet spot for professional video production.
Email Marketing: $500 to $2,000+ per Month
If you're outsourcing email marketing to a top-rated freelancer, you'll likely pay between $60 and $150 per hour. In this sense, you can somewhat customize the level of service you receive. For example, you may simply have your freelancer design and write your campaigns while you manage your segmentation and other concerns. Agencies, on the other hand, often work with retainers or packages. So, for example, you might get a single email per month for $500 or three for $1,500.
It's important to note that there are other costs involved. For example, your email service provider may charge for each email you send or have a monthly fee based on total contacts. With this in mind, hiring someone who simply writes and designs emails is ill-advised. You need someone keeping your lists clean and monitoring for issues to ensure messages don't start going to spam. There's a fair amount of setup and "seeding" when you first begin mailing or using a new email address too. Furthermore, your email marketing professional needs to constantly test different techniques and monitor analytics to ensure you're improving results and ROI over time.
Copywriting: $200 to $3,000+ per Month
Sorting out the cost of outsourcing copywriting is enough to make anyone's head spin. Depending on the arrangement, you can pay per word, per hour, per piece, or for blocks of content. If you're purchasing unedited work from a general copywriter, expect the starting rate to be around $100 per 1,000-word blog. If you're working with a specialty writer who knows your niche, it's going to cost you 25-50 percent more. Agencies and copywriting firms sometimes have editors who can help with strategy and finding the right copywriter. Still, you'll generally pay three or four times the amount you might have without the extra overhead.
Of course, a single blog per month isn't likely to get you the traffic you want. Two is a better starting point, though you may need more if you're in a competitive niche and trying to gain ground. You may also need your copywriter to help with web pages, whitepapers, and other types of content.
Social Media Marketing: $900 to $20,000 per Month
Before we dig into pricing, it's important to note that social media marketing, management, and advertising are three different things.
A social media manager behaves as if they are your brand online

. They'll engage with people, respond to comments, post, and ensure that profile information is updated.

A social media marketer is strategic.

They'll devise marketing campaigns designed to grow your audience and engage readers with the ultimate goal of encouraging people to visit your website or become leads.

A social media advertising specialist is focused on paid ads and posts.

The role is similar to a PPC specialist in which lead generation is the ultimate goal, though the individual is more familiar with the nuances of each social media platform.
Sometimes professionals cover all three areas, but it's just one or two more often than not. Whereas a freelancer may work by the hour, and the total cost will vary based on the number of networks, total posts, and similar factors, agencies usually work with a flat rate that starts at around $1,000 per month—the cost of ads and things like contests to grow your audience increases the amount from there.
Graphic Design: $25 to $60 per Hour
If your outsourced graphic designer is working full-time hours for your company, costs can easily exceed $5,000 per month and approach $10,000. This is generally overkill for small businesses, though. You may only tag a graphic designer in to help with special projects, such as designing whitepapers, case studies, and infographics, in which case your costs will likely be under $1,000 per month. However, many businesses also have their designer help with images for social media and similar recurring needs, which may double or triple the amount.
Analytics: $1,000 to $2,000 per Month
The challenge with analytics is twofold. First, you need to have the right tools to collect and present relevant data to your analytics professional. Some tools are free, but you can easily spend $1,000 or more on a single tool as you move into more advanced marketing. Then, you need the analytics professional to turn that data into results your team can actually use to improve the effectiveness and ROI of your marketing. It's easy to see how large companies with many working gears can spend tens of thousands each month on analytics. However, a growth-minded small business should plan for at least $1,000 per month if outsourcing.
Management: $6,000 to $40,000+ per Month
A digital marketing manager oversees all the processes outlined above. In a very small company, the manager may perform some of the marketing tasks. However, the role generally relates more toward ensuring all campaigns are performing, the team is working in tandem, deadlines are being met, and goals are hit.
The Cost of Outsourcing Digital Marketing to Freelancers vs. an Agency vs. a Consultant
As you may have noticed in the examples above, working with digital marketing agencies or marketing firms is usually two to three times more than hiring a freelancer directly. However, when you hire freelance marketers, you then become responsible for finding and managing them. Therefore, a third option is to work with a digital marketing consultant who will find the best solution for each marketing role for your business.
Calculating the Total Cost of Outsourcing Digital Marketing Services
If you were adding things up as we went, you might have noticed the minimum cost to outsource digital marketing came to around $10,000. However, this is not necessarily going to be your cost. Remember, in the beginning, I asked you to rephrase your question and think of it as "What's the right digital marketing investment based on my business's current status and goals?"
If you're focused on fast sales, invest $10,000 in a month and net $20,000; that was money well spent. Equally, if each of your sales becomes a contract worth a million dollars, it might make sense for you to invest $100,000 or more each month, even if you don't close a single sale to start. It's not necessarily about what you spend. It's about getting the return on investment.
Let's Talk About Your Digital Marketing Investment and Goals
As a digital marketing consultant with decades of experience working with Fortune 100 companies and small businesses alike, my focus is always on helping businesses reach their goals. Sometimes, that means I bring in outsourced talent, and other times it means I help cultivate in-house talent to ensure your investment delivers the return you deserve. I invite you to contact me for a no-obligation consultation. We'll talk about where your business is now, where you want it to go, and what strategies might be appropriate. Send me a note, and I'll be in touch shortly.